Updated Oct 31, 2018
Maryland State Inspection - Everything you need to know!
Published Nov 26, 2016
Updated Oct 31, 2018
Maryland State Inspection - Everything you need to know!
---
Whether you just bought a car or recently moved to Maryland, you are required to get MD State Inspection in order to get the car registered. If you are not ready to take your car for a state inspection, you can obtain a temporary registration if you wish by going to a tag and title or the MVA. 
[toc]
If you just bought a car without a Safety Inspection,  go to the MVA or any Tage and Title to obtain a 30-day temporary registration. This will allow you to drive the vehicle to an authorized auto repair shop to complete the safety inspection.  Once pass Maryland inpsection, you need to go back to receive your permanent registration. Maryland state inspection is one of the stringent in the country. It is also a painful experience and a money-making business for auto repair shops.
Some things to keep in mind.
The safety inspection is an objective test to a degree. Some auto repair shops will take advantage of this. They can fail the car for unnecessary problems hoping you will have them do the repair at their shop. The majority of used cars, don't pass the inspection on the first try. Repair shops that perform repairs will quote the owner several hundred dollars worth of repairs to pass the inspection. We took the one 2004 Mercedes-Benz E-Class to two different inspection station and both cases the car failed for different reasons. The state is trying to fix by introducing the Maryland Safety Inspection System or MSIS, more on that later.
Inspection is only required once, when you first move to Maryland or when you buy and need to register the car. Five years down the road the car could be falling apart, some do if not maintained, and still, drive on Maryland's roads.
The Maryland State Police oversee the Maryland State Inspection. The inspections are performed by authorized auto repair shops throughout the State of Maryland. Vehicle inspection certificates can be issued by any authorized auto repair shop. Once you register the car, two to three months later you will receive a letter to take your car for the Emission Inspections at one of Vehicle Emission Inspection Station (VEIP Stations).
Who is required to obtain a Maryland Vehicle Safety Inspection?
If you are going to register and drive a car in Maryland, it is necessary that you have a recent safety inspection certificate before you can tag and title the car. All of the following require an inspection certificate:
Passenger cars;
Light trucks and SUV with a gross vehicle weight rating of 10,000 pounds or less; and
Trailers that are 20 feet in length or less, without air brakes. 
Vehicle Inspection when buying a car from a private party.
The inspection can be ordered by the seller or the buyer. A seller can sell a car as is, with no inspection completed. If you are the buyer and purchased a used car without an inspection, you can have your certified auto repair shop perform the inspection for you. You will not be able to get your permanent registration until you provided a valid inspection certificate. You can get a 30-day temporary registration without the inspection certificate. If you receive an inspection certificate from the buyer, make sure that:
The VIN on the certificate matches with the VIN of the car.
Inspection has been completed in the last 90 days. Certificates over 90 days are voided.
Car Insurance Policy
Before you head over to the MVA to register your car, make sure you have added the new car to your car insurance policy. You will need to provide a copy of the insurance policy showing the car that you are about to register. A printed copy is sufficient.
Buying a car from a licensed dealer
If the vehicle is offered for sale a Maryland Dealer then the certificate is valid for six (6) months or the car should not have more than 1,000 miles than the mileage on the Inspection Certificate. MD Dealers cannot sell cars without a safety inspection.
Vehicle Registration when Moving to Maryland
If you just moved to Maryland you are required to register the car in the state of Maryland. There may be some exceptions if you are in the state temporarily, for example, as a student. Complete the safety inspection before you head over to the Motor Vehicle Administration (MVA), or as DMV as it is called in some states. You are required to register the car in Maryland within 60 days of moving to the state. Make sure to bring documents to verify your address as well. Read this article if you just moved to Maryland, New to Maryland Titling and Registering your vehicle information. 
Where to get Maryland Vehicle State Inspection Certificate?
Most auto repair shops have at least one car mechanic that has gone through the training and been authorized to perform Maryland State Inspection. Car maintenance facilities that have been authorized by the State to complete car inspections should have a sign similar to this. Click Here to find an Authorized Maryland State Inspector.  
What is inspected during Maryland Safety Inspection?
Maryland State Inspection is one of the most rigorous in the United States. Here are the systems that are inspected for cars and trucks.
Steering system

Wheel alignment

Suspension

Brake system

Wheels / tires

Fuel system

Exhaust system

Bumpers Fenders

Lights

Electrical system

Mirrors 
Glazing (windows)

Wipers

Hood / catches

Door handle latches

Floor / Trunk pans

Speedometer / odometer

Driver seat

Safety belts

Motor mounts

Gear shift indicator

Universal and CV (constant velocity) joints

 Emissions equipment
Source: Maryland Vehicle Administration
How does a Maryland State Inspection report look like?
The paper inspection is being phased out. MVA is implementing the new online e-inspection system called: Maryland Safety Inspection System. See below. Here is an original Motor Vehicle Inspection Report for a car in the State of Maryland. This form is used for cars, truck, VAN, SUVs. Trailers, Motorcycles, 3 wheel MPV and vehicles over 10,000 pounds use a different form similar to this.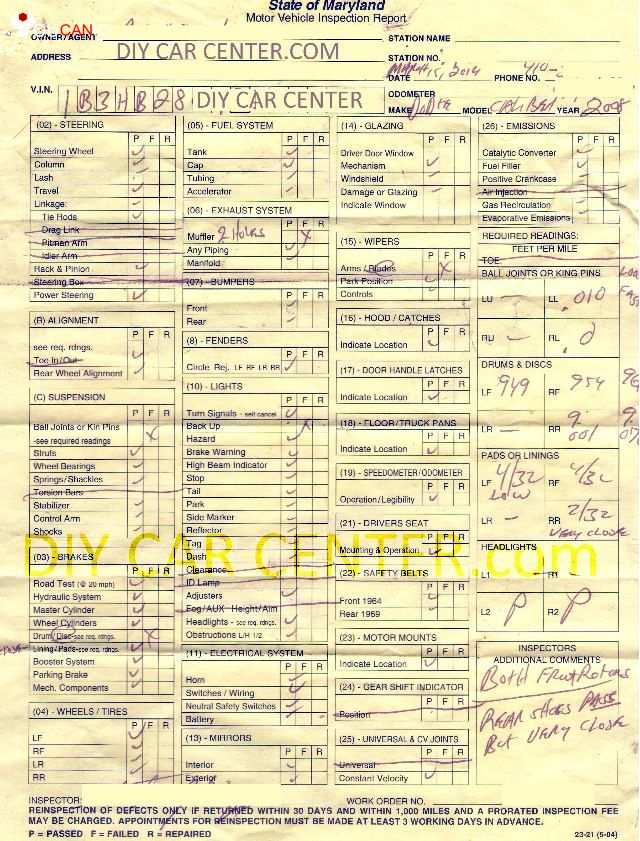 Maryland Safety Inspection System  (MSI)
In 2016, Maryland State Police implemented the Maryland Safety Inspection System. All the auto repair shops will eventually be required to switch to the new MSIS system. The inspection itself is still the same. The main advantage of the MSIS, is that if you inspect the car at one station, it will be stored in the database. Take it to another mechanic for inspection, they will be able to see why the previous station failed the car. Once the inspection is completed and has been submitted as PASS in the MSIS, an inspection certificate will automatically be sent to the MVA. The new online MD State Inspection Demo is currently available online if you would like to take a look at it. Car mechanics are required to be trained on the new online MSIS system. Check out the online MSIS here:  New Maryland State Inspection Demo Here is a picture from the demo of the new online Maryland Safety Inspection System.
Failed Maryland State Inspection
If you failed the Maryland State Inspection, don't panic. You are very frustrated at his point, we understand. Did you know that very few used cars pass the inspection on the first try.  Vehicle safety inspections are a very lucrative source of income for auto repair shops in Maryland. Unfortunately, some of them abuse the process.
We are not saying that all car mechanics take advantage of the state inspections, as there are lots of honest auto mechanics out there. Be diligent and read some online reviews, before you take the car in for inspection. We have seen cars fail for "problems" such as exhaust leaks where the hole was the size of a needle. How about failing for marks on the windshield from the wiper blades.
Can I repair my car or do I need to take it to a repair shop?
All the problems listed on the inspection report need to be addressed. It doesn't matter who fixes them. You can have the car serviced at any mechanic you choose. Here are your options:
You can fix all the problem yourself.
Have the inspection station fix the problem.
Take your car to another mechanic.
Check with the station where you inspect the car if they charge a re-inspection fee. Generally speaking, if the same mechanic performs the repairs, they don't charge a reinspection fee. It is likely that if you go to another auto maintenance facility, the inspection station will charge a reinspection fee. The mechanic will check only the items that failed the first time. Based on our experience, when the car is taken back for reinspection it is not looked at thoroughly as it was the first time. 
How much does MD State Inspection Cost?
MD State inspection cost varies from $60 to $110. The average MD state inspection is $80. Some shops charge reinspection fees while others don't. It is up to the shop to charge a reinspection. It doesn't mean that because one mechanic charges more for the inspection; he will do a better job.
It is to your advantage to find an inspection station that only does the MD State inspection and doesn't do car repairs. They tend only to focus on safety problems and not items which are related to maintenance.
Ask the mechanic who is doing the MD state inspection if they charge a reinspection fee if case your car fails MD inspection. It is very common for cars that are over 4 years old to fail for things such as wipers blades, burned bulb, wheel bearing, brake pads or tires.
Frequently Asked Questions
Is window tint allowed in Maryland?
Yes, but the tint should allow at least 35% of the light to go through. In cars, all the windows including back glass and rear door windows need to meet the 35% requirement. If you have a van or truck, the back windows can be as dark as you desire. The front driver and passenger windows need to follow the 35% rule requirement. If you have medical conditions, you may be allowed darker tint on the front doors. You will need to provide doctor's recommendation to the Maryland State Police to get approval.
What are the Maryland MVA hours of operation?
Glen Burnie Headquarters Hours
Monday-Friday: 8:30 am to 4:30 pm (all services)
Saturday:8:30 am to 12:00 pm (Driver's License Services only)
Sunday: 
Closed
Address
Glen Burnie Headquarters 6601 Ritchie Highway, N.E. Glen Burnie, Maryland 21062
Do I need to get my car emission tested in Maryland?
Yes, you do. After you register your car, two to three months later you will receive a letter in the mail to take your vehicle in for Vehicle Emission Inspection at a VEIP station. This is what an MD Emission Inspection Notice looks like.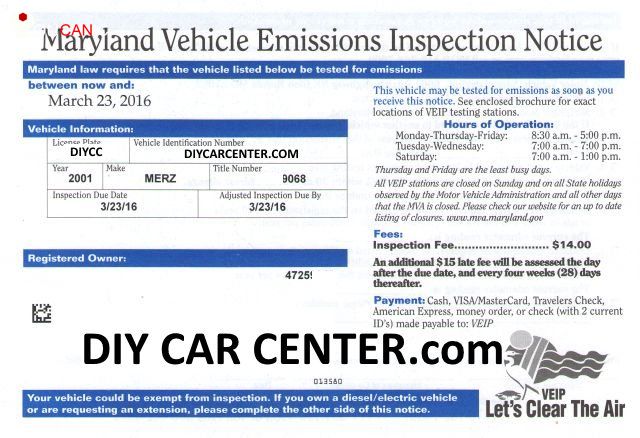 Will I fail Safety Inspection if my check engine is ON?
No, you will not. You will fail the emission test which you are required to complete 2 to 3 months after you register the car.
What are inspected on a car during Maryland State Inspection?
You may be wondering as to what is inspected during the Maryland State Inspection. That's a long list, which we have put together and you can download it below in PDF format. All the items are safety related, making sure your car is roadworthy.  The inspectors will check items related to safety such as wheel alignment, brake, rotor, steering, and suspension. If you are buying a car, don't rely on the inspection alone. During the inspection, they will check items that aren't related to safety for example air conditioner, check engine light. The car will pass even if the SRS / Airbag light is on. Have an auto repair shop perform a pre-sale vehicle check.
Do I need to inspect my car each year?
No. Once you register and get the plates you don't to do safety inspection check on the car again. Emission inspection test is different and is required every two years.
Moved in from another state. Do I still need a Maryland Car Inspection?
You may be thinking I just did the safety check in my state. Well, you need to do Maryland state inspection as well. You still need to complete and pass the Maryland State Inspection.  Sorry!
How long does it take to get my car inspected?
The inspection usually takes between 45 minutes to 90 minutes.
Do I need to pay again for re-inspection, if I fix all the problems?
That depends on the auto repair shop that you took the car for the initial inspection. Some of them will not charge. Most do, typically half an hour work. If they only have to check a couple of obvious items, they may waive the fee if you ask.
Will a car with high miles fail safety inspection?
Not necessarily. Accord to Inspector Steve at MDStateInspectionStation.com, there has been cars with over 200k miles that have passed the first time. Do I need to do vehicle safety check to transfer the title in my name? No. If you are only transferring the car and do not plan on driving it on the road, You will not be able to get plates or a registration, but you will get the title in your name.
Can I register a Salvage car in Maryland?
Yes. If the car already has a salvage title from another state you will need to get your inspection certificate at any car repair shop. Assuming they are authorized to perform vehicle safety checks.  If the car was just repaired and is getting a salvage for the first time, you need to schedule an inspection with the State Police by going.
Here is the contact information.
Automotive Safety Enforcement Division (ASED)
6601 Ritchie Highway NE
Glen Burnie, MD 21062
410-768-7388
How long is a Maryland state inspection good for?
Inspection is good for 90 days if you are a private party. Six months when it is in the name of a used car dealer.
How much time do I have to re-inspect my car?
You have 30 days or 1,000 miles. Whichever comes first.  If you go over the miles or 30 days, you need to pay the price for a full inspection again.
How to contact MD MVA DMV, in Glen Burnie?
Motor Vehicle Administration
6601 Ritchie Hwy, Glen Burnie, MD 21062 MVA Glen Burnie Contact Phone Number:
MVA Customer Service Center: Out-of-State
1-800-950-1MVA (1682) or

410-768-7000

1-301-729-4550

TTY/Hearing Impaired:

1-301-729-4563
Back to top
Where to report car inspection report problems?
If you are having problems related to the MD safety inspection, contact the Maryland State Police. Here is their contact information: Maryland State Police Automotive Safety Enforcement Division (ASED) 6601 Ritchie Highway, NE Glen Burnie, MD 21062