2011-16 Hyundai Elantra How to Recharge A/C
Published by YOUCANIC Automotive Experts 
Last Updated Nov 29, 2018 
While many Hyundai owners many find this guide helpful, this guide applies to Elantra model years: 2011, 2012, 2013, 2014, 2015, 2016. If you have a different Hyundai model the location of your A/C port will not be the same. 
In this DIY guide, we will show you how to recharge the air conditioner on your Hyundai Elantra. Charging the system using a refrigerant charging kit can take between 5 to 10 minutes depending on the system capacity. 
Start Engine
Start the engine and let it idle.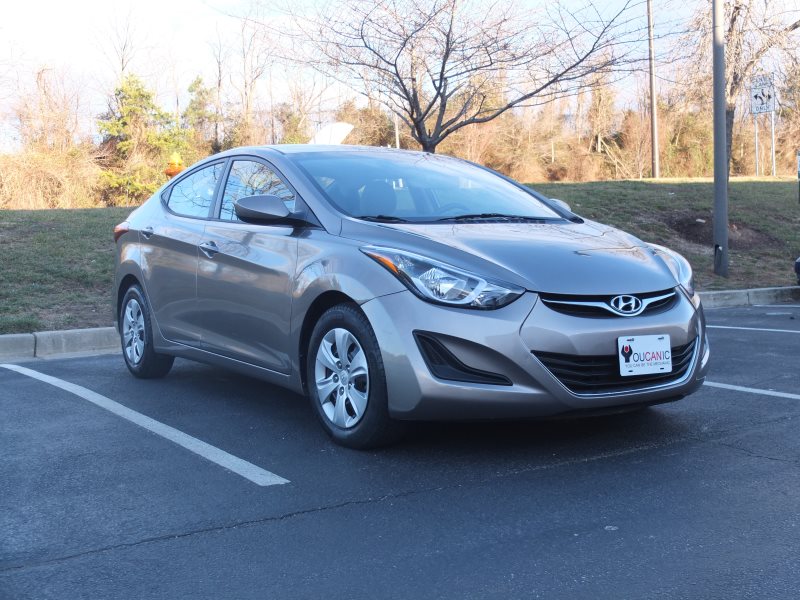 Turn the air conditioner ON. Set climate control to the maximum cooling.
Open Hood
Open the hood of your Hyundai Elantra.Locate the low-pressure air conditioner service port and remove the cap.
Locate A/C Charging Port
Locate the air conditioner charging port or service port. In the Elantra, the A/C port is located behind the engine near the firewall. 
If you are still having trouble locating the A/C charging port on your Hyundai Elantra this video explains it all. 
Next, connect the A/C charging kit. 
Add refrigerant to your air conditioner system
Once you attach the refrigerant gauge to the service port you will be ready to add freon to your Hyundai Elantra A/C system. Read the pressure in your air conditioner system. If the pressure is low the gauge reading will be in the white zone. If the pressure is normal then the gauge should be in the green or blue area depending on the A/C kit that you are using. You should not have a reading on the HIGH / RED zone except when the car is turned off, in which case it is normal.
Always keep the can UPRIGHT. As you charge the system shake the can every two or three seconds while you are charging.
Check continually
Every few seconds release the trigger to stop the charging process. Take a look at the pressure gauge. (It is normal for the gauge to show overcharged with the engine turned off.) Don't overcharge the A/C system. Stop recharging the A/C system once you get the pressure within the acceptable range. In our case it should be in the middle of the green zone between the two temperature dial red lines.
Detach the quick connect from the A/C port. Reinstall the cap. Don't overtighten the cap. Close the hood and enjoy your AC system again.
 
Important 
If the refrigerant level is very low, the AC compressor will not engage right away. Charge A/C system for a couple of minutes with the engine running. You will notice the AC compressor engage/kick in as you add enough refrigerant into the system.