2011-2016 Hyundai Elantra Headlight Assembly Replacement
In this tutorial, you will learn how to replace the headlight assembly on Hyundai Elantra 2011-2016. These instructions apply to both driver's side and passenger side headlight assembly.
Replacing the headlight assembly on a Hyundai Elantra is easy and straightforward. It takes about 30 minutes to replace the driver's or passenger's headlight.  There are three bolts that need to be removed. There are two 10mm bolts and one 12mm bolt that needs to be removed.
What you will need
Instructions
Open Hood
Place the gear shifter in Park position. Turn ignition off and remove the key. Pull the hood release under the dashboard. Move to the front of the Elantra and press the hood latch release. 
Remove Bolts
You have two 10 mm bolts and one 12 mm bolt that needs to be removed. 
Unplug Electrical Wires
Press on the electrical wire plug and pull it away from the headlight. Location of the headlight wire socket shown below with the headlight removed. 
Remove headlight assembly
Pull your Hyundai Elantra headlight assembly forward.
Be careful as you may damage the front bumper during this step.

Be patient and don't rush. 
Install replacement assembly
Reinstall the new headlight assembly in reverse order.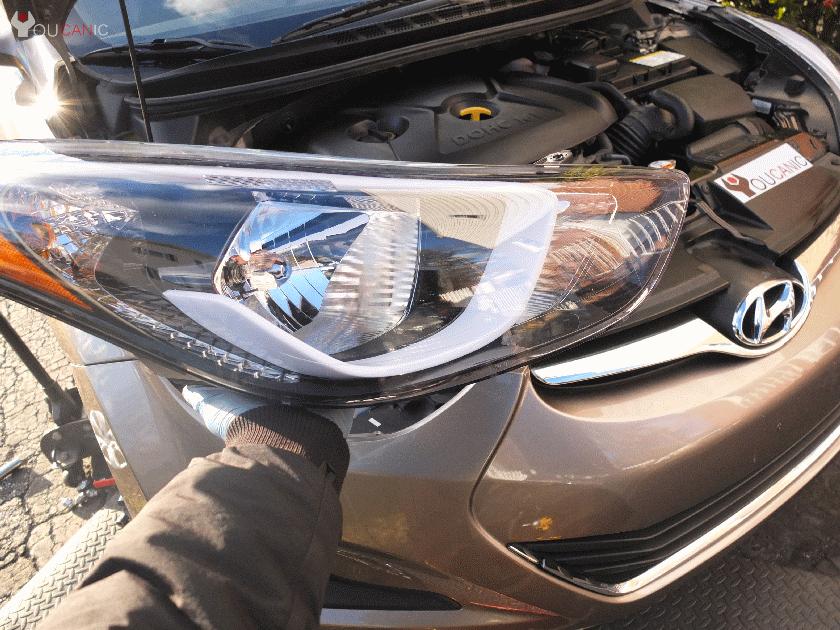 ​
We hope that you found these instructions helpful. If you have any questions or recommendations please use the comments section to leave us and future readers a note. 
If you replace the headlight at your Hyundai dealer, it can cost between $400 and $800. If you replace it yourself expect to pay between $100-200 for a replacement headlight. That's if you buy it online, see link above.
Replacing the headlight assembly on a Hyundai Elantra is relatively easy. The headlight is held in place with three bolts. Once the bolts are removed the headlight can be pulled out and be replaced it with a new one.
Yes, you can. Just follow the instructions on this page. You will need a ratchet and a 10mm and 12mm socket.