2011-2016 Hyundai Entrant Window Regulator Replacement
In this guide, you will find instructions on how to change Hyundai window regulator. These instructions will help you change window regulator on Hyundai models such as Elantra Accent, Tucson, Accent, Santa Fe, Sonata, Genesis, Veloster, Azera, Equus.
Symptoms
Hyundai Driver/passenger windows don't go up and down. 

The front or rear door glass broke and you need to replace it. 

Hyundai window regulator is broken and doesn't allow the window to go up or down. 
What you will need
Instructions
Remove door panel
Remove the door panel. There are two screws that hold it in place cover with two plastic caps. Once the two screws are removed the panel will pop out. 
Disconnect Window Glass from Regulator
At the center of the window panel, you will see two access holes. They are covered with two round rubber covers. These two covers will need to be replaced in order to access the two bolts that hold the window glass in place. Below is a picture that shows the location of the two round covers / access holes.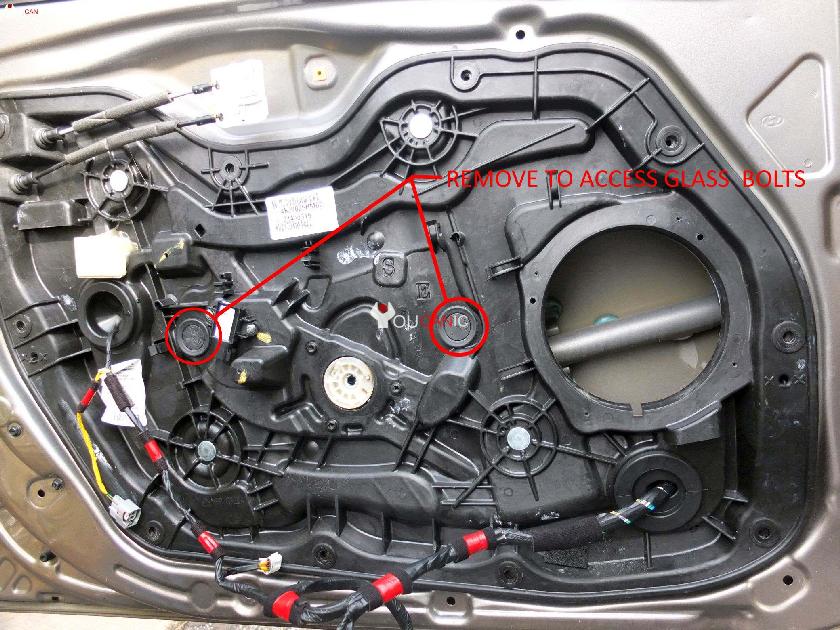 Once you disconnect the glass, disconnect the battery before you disconnect all the wires from the door panel.
If you need to replace the window glass you need to pull the glass out you need to pull it up to remove it. Otherwise use tape to secure the glass at the top position. Be careful not to let the glass fall down because not only will it break but it can also cause injuries. When you reinstall the glass, don't over tighten these two screws or you can crack the glass. Torque them to 10 Nm should be enough.
Remove and Replace Window Regulator Panel
The window regulator panel in this Hyundai is held in place with several 10 mm bolts. Rember to lower the glass in order to access the two bolts that secure the glass. If you disconnected all the wires and the window switch, you should be able to lower the glass manually until the two bolts line up with the two access holes.
The window regulator does not come off the window panel that we just removed.  You will need to replace the whole window regulator panel and the window regulator together. 
Reinstall the door panel
Reinstall the door panel in reverse order. Make sure to reconnect the electrical connectors including mirror switch, window switch, side mirror, door handle. 
Photo Gallery
Hyundai Window Regulator Replacement Cost
The average cost to replace the window regulator on a Hyundai varies from $350-$600 when the repair is performed at the dealer or a repair shop. When you replace the window regulator yourself you should spend less than $150 for parts and tools.