Aftermarket Kia Logo Badge Emblems
Updated 7 months 1 week ago
TIME REQUIRED:
LEVEL OF DIFFICULTY:
3
Difficulty Level
1 - Very Easy
10 - Difficult
REPAIR COST
Youcanic:
Mechanic:
Dealer:
Are you looking for a unique KIA logo on your car? There is a simple solution for that. You can replace the Kia emblem with the Kia K 3D logo which is more stylized and appealing. Check out the list of Top 5 Kia K logos. The broken K Kia logo is used in the Asian market and is also known as the Kia 3D K logo. These Kia K badges will fit Kia vehicles such as Kia Optima, Sorento, Cadenza, Forte, Sportage, Sorento and other models. You can use an aftermarket Kia K emblem set to replace the boring looking "KIA" badge on your steering wheel, front, rear trunk and even wheels.
Top 5 Kia Logo Badge Designs 
1. Kia 3D K Logo Emblem
Check Price: Kia 3D Logo Emblem
Change the look of your Kia with this 3D K logo emblem. This is one of the most popular Kia K designs that Kia owners use to replace the stock Kia badge. At a minimum, you should get the 3 piece kit so that you can change the front, trunk and steering wheel badge. If you also want to change the Kia emblems on the wheels check out Amazon listing that have all 7 pieces. 
2. Kia K Carbon Fiber Black Edition Emblem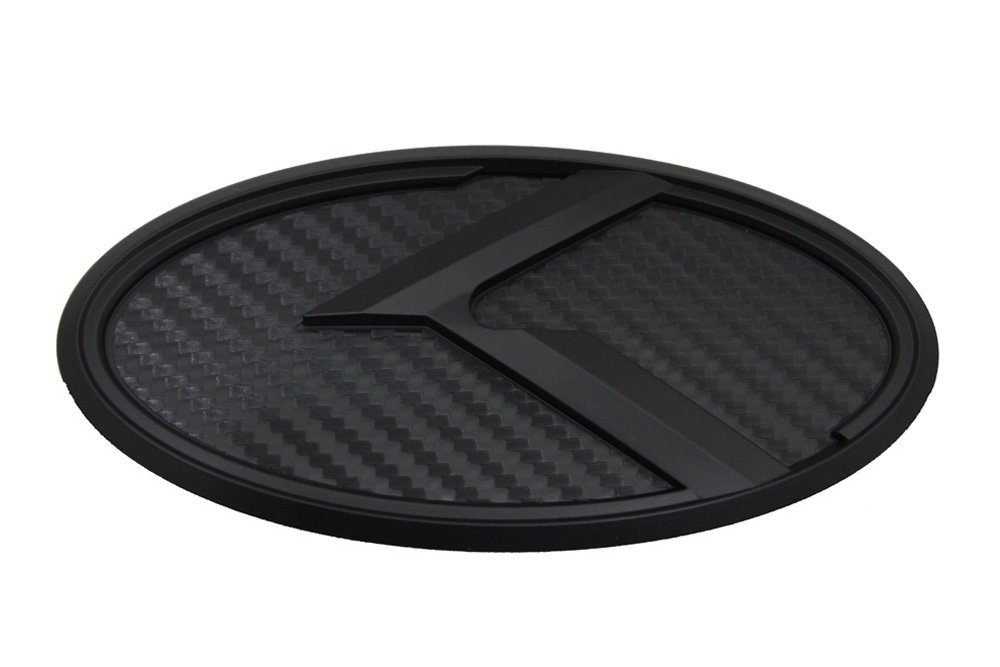 Check Price: Kia Carbon Fiber Emblem
Check out the carbon fiber black edition of Kia 3D K logo. You can easily replace the steering wheel, front, rear and wheel Kia badges on your Soul, Optima, Forte, Sedona. Just make sure you order the correct pages for your specific Kia model. 
3. Kia Logo - K Badge RED
Check Price: Kia Red Logo
the Kia K logo in Red. Would look cool on a Black, White or Red Kia. Can be used to replace the front grill, trunk and steering wheel Kia badge. 
4. Kia Logo - K Emblem BLUE
Check Price: Kia Blue Emblem
You can also get the Kia K logo in Blue. An excellent choice if you love the color blue. It can be installed on Blue or White Kia vehicles or even on Black. This is still a 3D K logo. You can choose between a chrome or a black broken K color. The blue K logo also comes with a carbon fiber & black trim if that is what you like. 
5. Kia K Logo White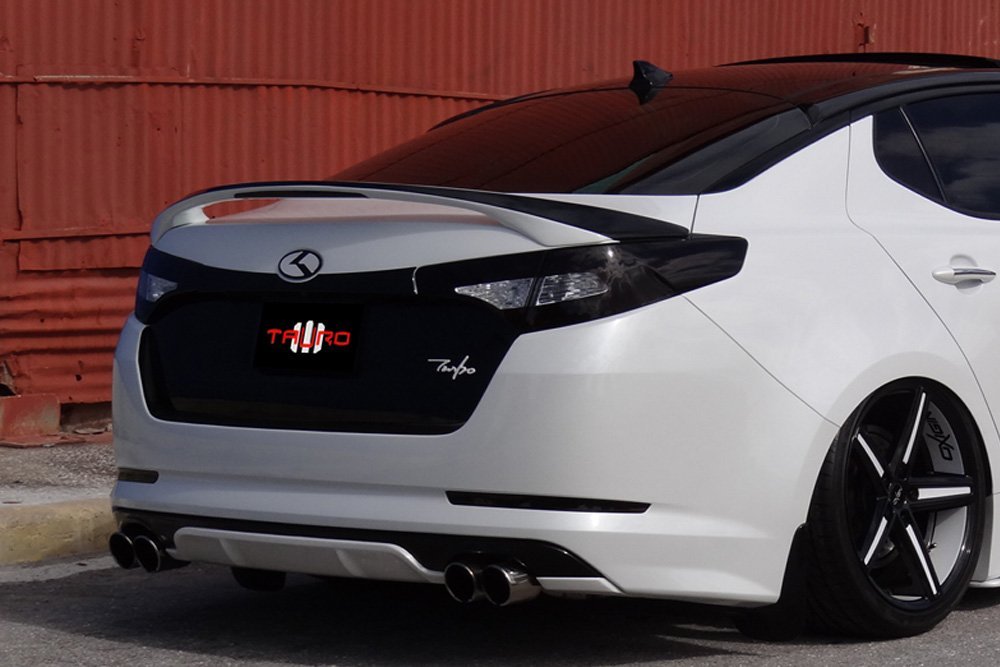 Check Price: Kia Broken K Logo
The last design of the broken K logo is with a white background. Definitely worth considering if you have a white or black car. White may look good on other Kia car colors. Use this Kia emblem to replace front, rear Kia badges. Easy to install. 
Kia Logo Badge Sizes
Front: 110mm X 56mm
Rear: 129mm X 65mm
Mini Sticker: 18mm
Wheel Center Cap: 18 mm
*These sizes may vary between Optima, Forte, Sedona, Sorento, Rio and other Kia models. Verify fitment before you buy your Kia logo set.  
Installing Kia Logo 
Installing new Kia K badges is very easy. Each sticker comes with 3M tape on the back. Pay close attention so that you don't install the emblem upside down. The front hood and trunk badges are held in place with glue. Warming the badges slightly with an electric heat gun will make removing the Kia badge easier. Make sure to keep the heat gun on the lowest setting or you could damage the car paint. 
Use residue removal product to remove the leftover adhesive.  Goo Gone Cleaner works very well. 
To install the Kia K badge on the steering wheel you will need to remove the stock Kia badge. Use a flat screwdriver to pry off the OEM Kia badge from the steering wheel. Once the old Kia badge is removed the new Kia K emblem can be easily installed. 
Avoid washing your Kia for at least a day after you install the emblem and don't allow any water or rain to get to the emblems. 
Kia K logo Origin
Kia can be defined as "rising out of Asia. Kia uses two logo designs. The text version used in the US & international marked and the broken K logo used in in South Korea. If you would like to learn more about the Kia badge read this article: Behind the Badge: Kia's Korean Logo is so much cooler. 
kia optima k badge
kia broken k badge
kia forte k badges
kia soul k badge
kia sportage k-badge
kia 3.0 k badge
kia sorento k badges
kia rio k badge
2014 kia optima k badges
kia k logo cadenza
kia k logo emblems
kia k logo ebay
kia 3.0 k logo emblems
kia 3d k logo emblems
kia k emblem for 2013 optima
kia k emblem forte
kia k logo for sorento
kia k logo forte
kia k logo for sale
k badge for kia
kia forte k badge
kia forte koup k badge
kia k emblem malaysia
kia k logo origin
kia k emblem optima
kia k logo optima
2014 kia optima k badge
kia k emblem philippines
kia k emblem steering wheel
kia k logo sportage
kia k emblem sorento