Audi Mass Air Flow (MAF) Sensor Replacement
In this step-by-step guide, you will find instructions on how to change Audi Mass Air Flow (MAF) sensor. Changing the mass air flow sensor on an Audi is very easy and takes less than 30 minutes, even for beginners.
Average cost to change Audi Air Mass Sensor at the dealer or auto repair shop is between $180 and $350. Average cost to change Audi MAF Sensor yourself is between $20 and $85 including parts and tools. The instructions in this guide will help owners of Audi A1 A3 A4 A5 A6 A7 Q3 Q5 Q7 TT change MAF sensor.
Check Engine Light ON
Audi is hard to start or has trouble turning over
Engine stalls soon after starting.
The engine runs unusually lean or rich idling.
Audi engine drags or hesitates when idle or under load.
Audi hesitates and jerks during acceleration.
Audi engine hiccups.
What you will need
Audi Genuine MAF Sensor

Even though aftermarket MAF sensors are a lot cheaper, it is recommended to stick with OEM Audi MAF sensor. Aftermarket MAF sensors can at times cause unpredictable problems and may not last as long. Click here to check the price on OEM AUDI MAF Sensor. Also, check the price on aftermarket Audi MAF Sensor for comparison. 

Basic Tools
Instructions
Open hood
Open the hood of your Audi. The hood release is located under the dashboard on driver's side.
Locate mass air flow sensor
Locate the mass air flow sensor on your Audi.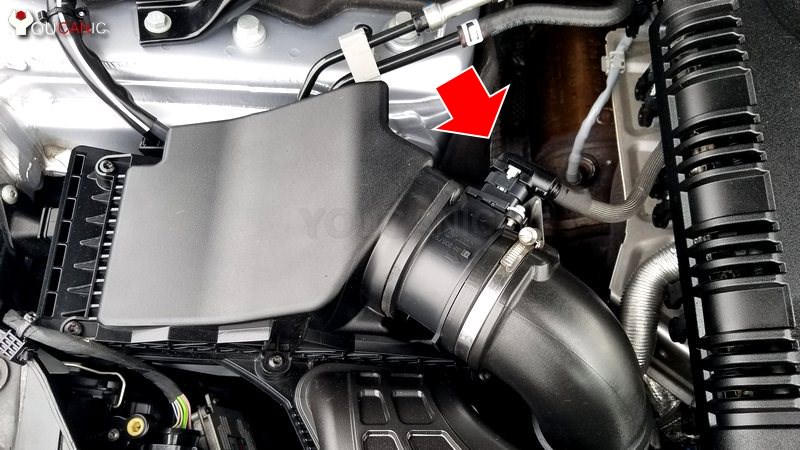 Location of Mass Air Flow Sensor on Audi A4. The sensor is located near the engine air filter housing. 
Unplug the wire harness
Unplug the electrical connector from your Audi mass air flow sensor. Press the connector in order to unplug it from the MAF sensor.
Remove the two screws that hold your Audi mass air flow sensor in place.
Install new MAF on Audi
Install the new MAF on your Audi. Tighten the screws so that they are snug. Plug the electrical connector until it locks in place.
Part Numbers
Below is a table that shows several Audi MAF sensor part numbers and applicable model years. When applicable cross-reference part numbers have been provided as well.
Part Number (Cross-reference)
Fitment
0280218063,
0 280 218 063  06A906461L, 0280218063, 0 280 218 063 0280218064,0986280217
2000-2006    Audi    A4     1.8L
2001-2005    Audi    A4 Quattro     1.8L
2001-2006    Audi    TT    ALL
2001-2002    Audi    TT Quattro AWP    ALL
0280218060
06A906461G 0 280 218 060, 06A 906 461 G
2007-2010 Audi Q7 4.2L
W0133-1815230 
12817397
2001-08 Audi A6 Quattro/2001-10 A8 Quattro 4.2L 8Cyl 5-Prong Connector
06F906461A,
06F 906 461 A, 06F-906-461-A  MAF0052, MAF 0052, AFH 60M-27, HTC AFH60M-27 MAF0052 HTC AFH60M-27 AFH60M-27
05 06 07 08 AUDI A4 AVANT 2.0L ENGINE AIR FLOW METER
06J906461B  
PZNRV31670001
AUDI A3 A4 A5 Q5 VW GTI JETTA PASSAT TIGUAN 08-17 2.0L
8ET009142241 ,
078133471E,33650147
Audi A4 A6 6 Cylinder, 2.8L V6 Engine