Audi Windshield Washer Fluid Refill
Learn where to add windshield washer fluid to Audi vehicles. Adding windshield washer fluid to an Audi such as A3 A4 A6 A7 Q3 Q5 Q7 is very easy and takes only a few minutes. If your Audi washer fluid is low you will get a warning message on the instrument cluster.
Always use windshield washer fluid to avoid damaging reservoir and the delivery lines. If your Audi has a rear wiper or headlight washing system, it most cases the same reservoir is used for both.
Symptoms
What you will need
Instructions
Open Hood
Open the hood of your Audi by pulling the hood release under the dashboard on driver's side. This will allow you to access the washer fluid reservoir which is in the engine bay.
Locate Audi Windshield Fluid Reservoir
The washer fluid reservoir on Audi A S Q TT models is either white or translucent and has a wiper symbol on top. If your model has a rear whiper the same reservoir will be feeding both windscreens. If you are not sure, check your Audi (A S Q TT) models owners manual.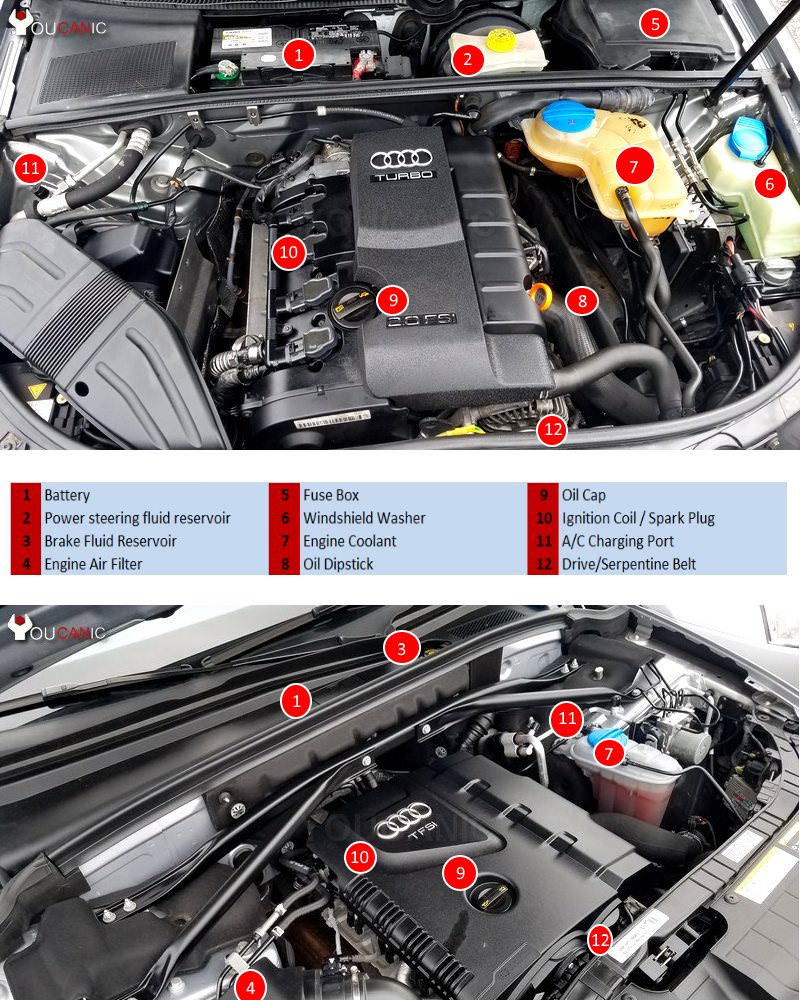 ​
Open reservoir cap
Open the washer reservoir cap. If the washer fluid is low this is where you add windshield washer fluid. 
​
​
Location of windshield washer reservoir on Audi A4. 
​
Location o the windscreen washer fluid reservoir on Audi A6. 
​
Location of the windshield washer fluid reservoir on Audi Q5. 
Add washer fluid until the level gets about two inches below the reservoir cap.
Updated 2 months 2 weeks ago