How to Change Audi Wipers
Published by YOUCANIC Automotive Experts 
Learn how to change windshield wiper blades on Audi cars. This guide applies to model years 1995-2019. Owners of several Audi models (such as A3, S3, RS3, A4, S4, A5, S5, A6, S6, A7, S7, RS7, A8, S8, Q3, Q5, SQ5, Q7, TT, R8) will find this guide helpful. See chart below if you need to lookup wiper size for your Audi or look it up online using a Wiper Blade Size Lookup service. 
🔺
Set Audi Wipers in Service Position
In older Audi vehicles you can simply fold the wiper arm out and change the wipers. In newer Audi vehicles you can't fold the wiper out because the hood will prevent you. To be able to replace your Audi wipers, you need to set your wipers in the service position. Watch the following video to learn how to set Audi wipers in the service position. 
Press CAR > Servicing and Check > Wiper Service Position > ON
🔺
Change Audi Wipers - J Hook Type
Step 1
Park your Audi on a level surface, set the parking brakes and remove the key from the ignition.
Step 2
Determine which wiper blade you are going to change first. In this case, we are going to change the driver's side wiper. Move the wiper blade up. Do not allow the wiper arm to fall on the windshield. Newer Audi vehicles require that you set the wipers in-service condition via the infotainment menu.
Step 3
Use a small flat screwdriver to lift up part of plastic that locks the wiper in place. Not all Audi wipers have this plastic retainer. If your Audi wipers do not have this plastic move to the next step.
Step 4
Rotate the wiper slightly so that you can press the release.
Step 5
Press the release tab and pull down on the windshield wiper.
Step 6
Grab the new wiper. Be extremely careful so that the wiper arm doesn't fall on your Audi glass. If the wiper arm falls on the glass it can crack the windshield.
Step 7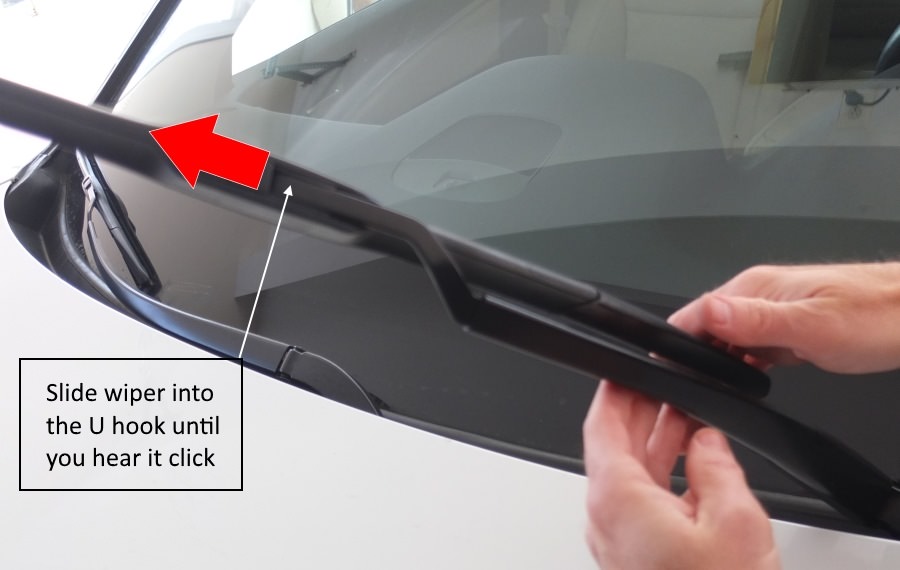 Slide the new wiper into the wiper arm until you hear it click.
Step 8
Next, replace the other wiper blade on Audi. Rember to change the rear wiper blade as well. 
🔺
Change Audi Wiper - BTP Type
Some Audi vehicles have Pinch Tab Button (PTB) wipers. The procedure to change these Audi wipers is similar except that you need to press the tab to release the wiper. 
As you press the tab, pull the wiper away from the arm to remove it. 
Install the new wiper in reverse order. Make sure the tab locks in place or the wiper can come off during operation or driving. 
🔺
Audi Wiper Lookup Table
This is a partial list of Audi wiper size. All Audi wiper sizes below are in inches.
| | | |
| --- | --- | --- |
| Audi Model | Driver Wiper Size | Passenger Wiper Size |
| 2016 A3 | 26 | 19 |
| 2016 A4 | 24 | 20 |
| 2016 A5  | 24 | 20 |
| 2016 A6 | 26 | 21 |
| 2016 Q3 | 24 | 21 |
| 2016 Q5 | 24 | 20 |
| | | | | |
| --- | --- | --- | --- | --- |
| | 1996 | 2003 | 21 | 19 |
| | 2003 | - | 24 | 19 |
| | 1995 | 2003 | 21 | 21 |
| | 2007 | - | 24 | 20 |
| | 2007 | - | 24 | 20 |
| | 1997 | 2001 | 22 | 21 |
| | 2007 | - | 26 | 20 |
| | 2011 | - | 26 | 20 |
| | 1995 | 2003 | 22 | 22 |
| | 2003 | 2010 | 26 | 20 |
| | 2007 | 2008 | 24 | 20 |
| | 2012 | - | 24 | 20 |
| | 2009 | - | 24 | 20 |
| | 2006 | - | 26 | 26 |
| | 1999 | 2003 | 22 | 21 |
| | 2004 | 2006 | 21 | 21 |
🔺