How to change engine oil on Mazda Four Engine
In this guide, you will learn how to replace the engine oil and oil filter on Mazda 2.5-liter DOHC 16-valve 4-cylinder with variable valve timing (VVT) engine.
This is known as the L-series engine and it is found on several models including:
2008-2012 Mazda 6 / Atenza
2009 Mazda Tribute
2010-2018 Mazda 3
2010-2018 Mazda 5 
What you will need
How to change engine oil Mazda 3 5 6  2.5L engine
Jack up vehicle
Drive your Mazda over onto the ramps. Place the car in park and set the parking brakes. Secure the vehilce with jack stands. 
Remove engine splash shield
Remove the plastic shield under the engine of your Mazda. It is held in place with several 10 mm bolts. 
Locate oil drain plug
Here is a close-up picture of oil drain plug on a Mazda 2.5 liter engine. You will need a 17 mm wrench to remove it.
Drain Oil
Remove oil drain plug. Allow the old oil to drain.
Replace drain plug washer
Replace the drain plug washer if you have one. If you don't you may get away without any oil leaks reusing the ld washer a couple of times. Reinstall the oil drain plug.
Install drain plug
Reinstall the drain plug on your Mazda.
Locate engine oil filter Mazda 5
Find the motor filter on your Mazda. Use a filter wrench to remove the oil filter.
Replace the oil filter
Remove the old oil filter. Install the new filter on your Mazda. Tighten it by hand.
Locate oil filler cap
Locate the oil filler on your Mazda 5.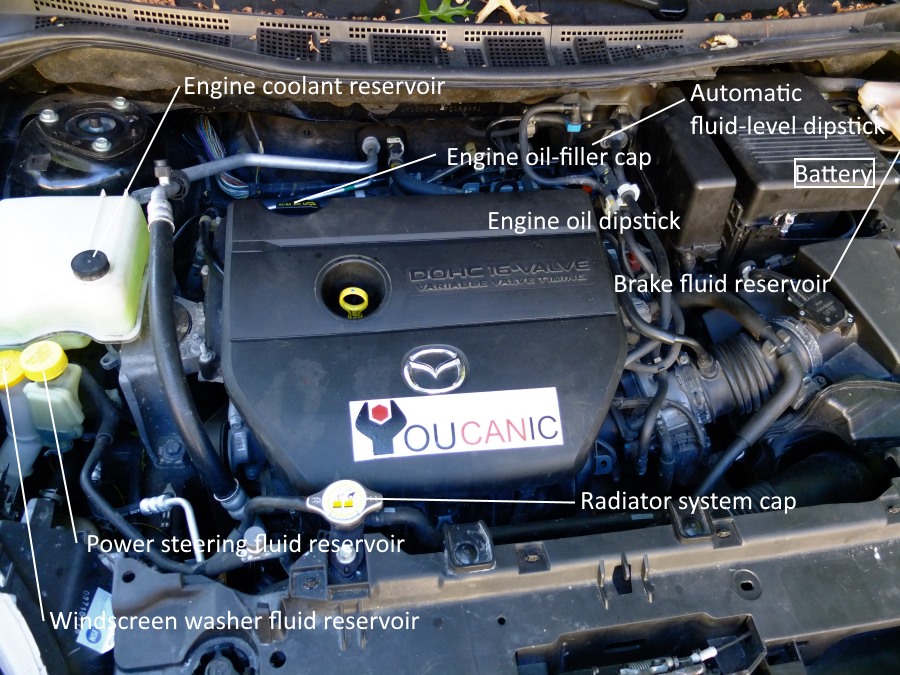 Add engine oil
Add the recommended engine oil. Check the oil level after you add 8% of the capacity. Don't overfill engine with oil.