How to change ignition coil Kia Hyundai Theta II engine
Follow these instructions to learn how to replace the ignition coils on Hyundai / Kia vehicles equipped with the four cylinder 2.0 L Turbo or 2.4 L engine. This applies to popular models such as Kia Optima, Sorento, Hyundai Sonata, Tucson, Santa Fee etc; see complete list below. More specifically this guide is for any vehicle equipped with Kia / Hyundai Theta II engine. Replacing the ignition coil on your Hyundai / Kia 4 cylinder engine is very easy. First, we are going to show you how to access the ignition coils. Then how to disconnect and then how to remove them. In the last step, you will learn how to install the new coils.
A four-cylinder Kia / Hyundai engine is very popular and is used in many other models. Click on the show applicable models tab to see which models use this specific engine. The engine cover may look different but the procedures for replacing the ignition coils are still the same. 
​​​​​​
Theta/Theta-II Engine - 2.0L (1998cc)
(G4KA, G4KD, G4KF, G4KH,)
2011 Hyundai Sonata Limited 2.0T, turbo GDI engine
Hyundai Genesis Coupe Port Injected 2.0 Turbocharged (2010-)
Hyundai Sonata GDI 2.0 Turbocharged (2011-)
Kia Rondo (2007-)
Kia Forte 2.0 (2009-2013)
Kia Optima GDI 2.0 Turbocharged (2011-)
Kia Sportage GDI 2.0 Turbocharged (2011-)
Kia Sorento GDI 2.0 Turbocharged (2016-)
Hyundai ix35 MPI 2.0 (2010-)
Hyundai Santa Fe (Sport Models) GDI 2.0 Turbocharged (2013-)
Theta/Theta-II Engine - 2.4L 
(G4KC, G4KE, G4KG, G4KJ,)
Hyundai Sonata (2006?2010)
Hyundai Sonata GDI (2011-)
Hyundai Sonata (2011-) (Middle East)
Hyundai Tucson (2010-)
Hyundai Santa Fe (2010-)
Kia Optima (2006?2010)
Kia Optima GDI (2011-)
Kia Rondo (2007-)
Kia Cadenza GDI (2011-)
Kia Sportage (2011-)
Kia Sorento (2011-)
Kia Forte (2010-2013)
Tools Required
The tools needed to complete replace the ignition coils Kia / Hyundai include a flathead screwdriver, a socket set, an extension bar (optional) and a 3/8" drive ratcheting wrench.
How to change ignition coils Kia / Hyundai
---
Step 1: Let engine cool down
Make sure the engine has cooled down. We would recommend disconnecting the negative terminal from the battery. Rember to never touch ignition coils or spark plug wires when the engine is running. Ignition coils generate high voltage that can be hazardous and even cause death.
Step 2: Remove the engine cover.
The cover pulls right up. It is held in place with four tabs, pins and there are no screws that you need to worry about. 
Step 3: Identify the ignition coil
Locate the faulty ignition coil. Cylinders are numbered from one to four, one starting on the passenger side and cylinder four is on driver's door. If you had a P0301 misfire code that means that cylinder one plug or ignition coil ONE is defective. If you had a P0302 misfire code that means that cylinder TWO plug or ignition coil is defective and so on. Before you remove the spark plug wires, we recommend that you label the wires so that you will be able to connect the wires to the correct ignition coil. Remove the plug wires by squeezing on the lock tabs and pulling up on them until they come off of the coil as shown in the video. Move the wires off to either side of the coil to get them out of the way.
Step 4: Remove ignition coil
The ignition coil is held on with one 10mm bolt. Remove the bolt using the 10 mm sockets and ratchet. You can now pull the coil up and remove it out of the vehicle.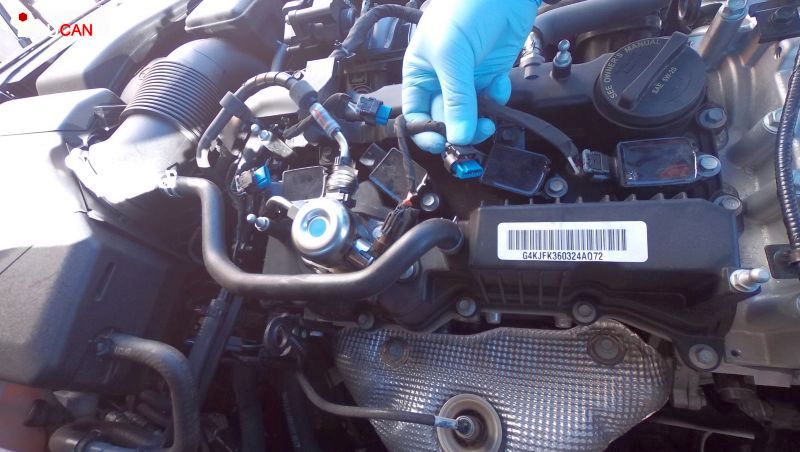 Step 5: Install new ignition coil. 
Carefuly place the new ignition coil in making sure it is seated properly on top of the spark plug. Secure it with the bolt using the socket and ratchet. Press the spark plug wires into the ignition coil until you hear it click / lock.  If you are replacing all of the coils, make the igntion coil connectors go back into the same coils as before,  mean don't change the order of the electrical connectors.
Important Notes
Torque Specifications: 3.9 ~ 5.9N.m (0.4 ~ 0.6kgf.m, 2.9 ~ 4.3lb-ft)
It is recommended to use safety glasses and gloves while replacing the ignition coils.
Make sure your engine has cooled down or you risk getting burned by hot engine parts.
Engine should be off when you replace the ignition coils.