How to change serpentine belt on 3.5 L Nissan Infiniti Engine
In this guide, you will learn how to replace the serpentine belt on Nissan V6 engine. This guide applies to many Nissan/Infiniti cars equipped with the 3.5L engine manufactured from 2000 to present.
Symptoms
Squealing Noise from engine
Power Steering or AC not working
Engine Overheating
Cracks or Wear on drive belt
Squeaks at startup or when turning steering wheel
What you will need
Parts Needed
Tools Required
Instructions
Park your Nissan
Park you Nissan. Engage the parking brakes. Allow your Nissan engine to cool down.
Open Hood
Open the hood of your Nissan. Look of the frame or under the hood for the serpentine belt routing diagram. It is often printed on a sticker found on the fan shroud.
Locate serpentine belt tensioner
Locate the serpentine belt tensioner on your Nissan. You will need to move the tensioner away in order to release pressure from the belt. Take a few pictures with your phone of the old belt in case you need to look at the serpentine belt routing latter.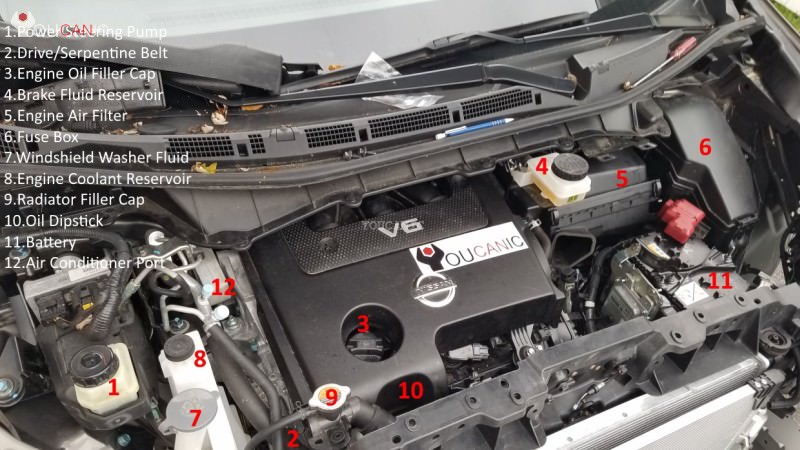 ​
Release Tensioner
Use a 3/8" ratchet to push the tensioner away(up) from the belt. To get to the tensioner you will either need to remove the passenger wheel or drive the car up on rams. This will allow you to remove the plastic cover on the wheel well to access the tensioner.
Remove belt
Remove the belt from the accessory pulleys by hand. The belt will need to come off several pulleys including, A/C pulley, alternator pulley, and crankshaft pulley.
​
Install new belt
Install the new belt on your Nissan by making sure it is routed as per the belt routing diagram. The last step is to slide the belt under the tensioner. Before you do that make sure to check that the belt is properly seated on all the pulleys or you will have a hard time installing the belt.
Applications
Typical applications include:
Infiniti QX60 (since 2014)
Nissan Altima (since 2002)
Nissan Maxima (since 2002)
Nissan Murano Z50 (since 2003)
Nissan Pathfinder (since 2013)
Nissan Quest (since 2004)
Nissan 350Z (2003–2006)
Nissan Pathfinder (2001–2004)
Infiniti FX35 (2003–2008)
Infiniti G35 Coupe (2003–2007)
Infiniti G35 Sedan (2003–2006)
Infiniti I35 (2002–2004)
Infiniti JX35 (2013–2013)
Infiniti M35 (2006–2008)
Infiniti QX4 (2001–2004)