How to change turn signal on Mazda 5 2010-2018
Published by YOUCANIC Automotive Experts 
Learn how to replace the rear turn signal light bulb on Mazda 5. This guide applies to model years 2010 to 2018.
What you will need
7443NA Bulb

Mazda5 use 7443NA bulb size. This is the same bulb as WY21W which is 21 watts bulb. The replacement bulb needs to be yellow/amber color. 
How to replace rear turn signal light bulb on Mazda5
Follow these instructions to change the turn signal light bulb on Mazda5. These instructions apply to both passenger and driver side. 
Step 1
Turn off the ignition.
Step 2
Open trunk in order to access the two screws that hold the tail light in place. 
Step 3
Remove tail light assembly. Remove the two philips screws. Once the screws are removed, pull the tail light towards the back. 
Step 4
Replace turn signal light bulb. The burned light bulb can be pulled straight out. Press the new bulb in place. 
Step 5
Reinstall the tail light assembly. Make sure to slide the tail light on the locking plastic pin. Once the tail light is installed properly, you can reinstall the screws.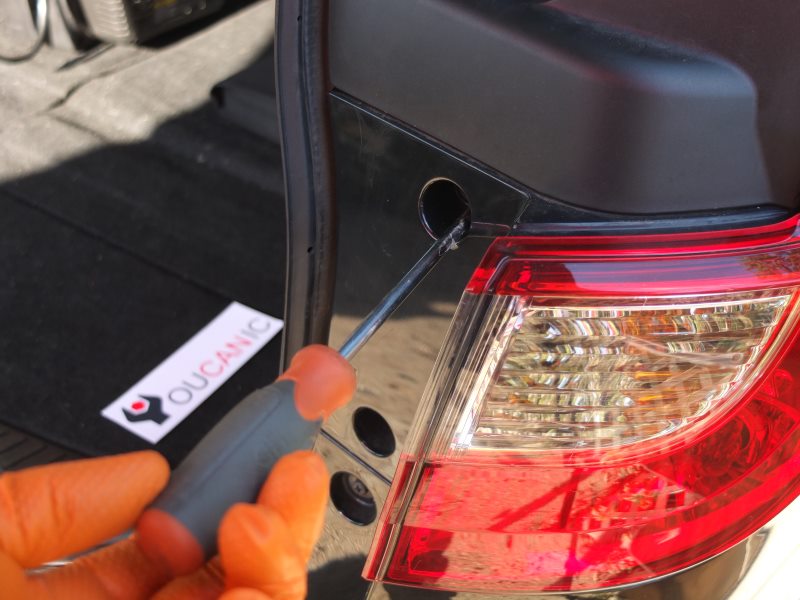 If you replace the turn signal light bulb on your Mazda and the lights still don't work, it is possible that the fuse for the turn signals is blown.
Check fuse 24 in the fuse box found in the engine compartment. The fuse is designated as HAZARD and will be a 10 A fuse.