How to Check Add Audi Power Steering Fluid
 Updated Thursday Mar 08, 2018
In this guide, you will learn how to check power steering fluid on your Audi models. This guide applies to Audi A3, S3, RS3, A4, S4, A5, S5, A6, S6, A7, S7, RS7, A8, S8, Q3, Q5, SQ5, Q7, TT, R8 except models that have electrical power steering. Don't continue to drive your Audi with no power steering fluid in it or you will burn the power steering pump.
Symptoms
Groaning noise when turning Audi steering wheel,
The steering wheel is difficult to turn,
Whining noise when turning the steering wheel,
Audi A S Q TT models the steering wheel slow to respond,
Stiff Audi steering wheel,
Audi A S Q TT models squealing noise at startup
What you will need
Instructions
Step 1: Open hood
Locate the hood release underneath the dash. Pull the lever until you hear the hood pop open. Next, you need to release the hood safety latch at the front of the hood.
Lift up the hood and secure it.
Step 2: Locate power steering reservoir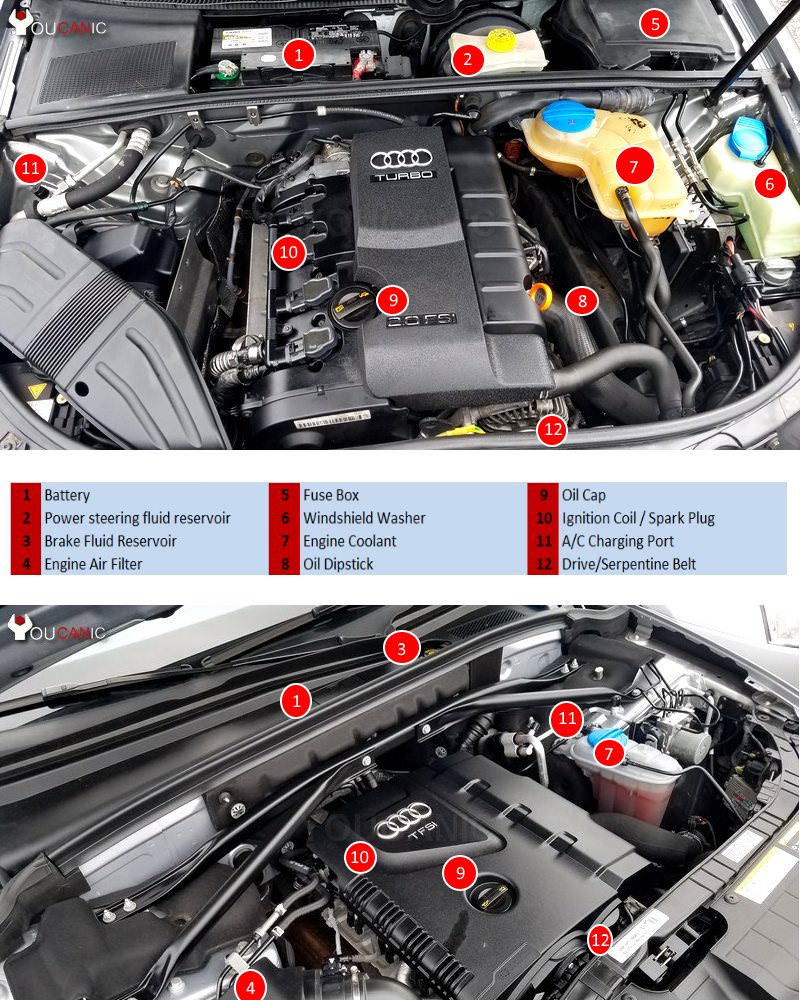 Next, you need to locate the power steering pump on your Audi A S Q TT models In this case, the power steering pump is located on the driver's side of the engine bay.
Step 3: Remove power steering cap
Audi A4 Power Steering Reservoir
Audi Q5 Power Steering Reservoir
Once you locate the power steering reservoir on your Audi A S Q TT models, remove the cap. Inspect current condition of the power steering pump.
If you look carefully on the side of the power steering fluid or the cap dipstick you will notice a Low and Max level for the power steering fluid. If your Audi power steerign reservoir is not translucent, remove the cap to check the power steering fluid level.
Step 4: Add power steering fluid
Adding power steering fluid on Audi model is very easy. These are general instructions on how to add power steering fluid on a car. Do not drive your Audi model for an extended period of time with low power steering fluid.