BMW E90/E91/E92/E93 series is the fifth generation of the BMW 3 Series range of entry-level luxury cars, and was produced from 2004 to 2013. The body styles of the range are:
4-door sedan/saloon (E90 model code)
estate/wagon (E91 model code, marketed as "Touring")
coupé (E92 model code)
cabriolet (E93 model code)
How to check, add coolant BMW 3-Series 2004-2013
Updated 8 months 1 week ago
TIME REQUIRED:
LEVEL OF DIFFICULTY:
1
Difficulty Level
1 - Very Easy
10 - Difficult
REPAIR COST
Youcanic:
Mechanic:
Dealer:
Learn how to check coolant level on BMW 3-Series 2004-2013. This guide applies to BMW 316i, 318i, 320i, 323i, 325i, 325xi, 328i, 328xi, 330i, 330xi, 335i, 335is, 335xi, 320d, 320xd, 325d, 330d, 330xd, 335d, M3, and M3 GTS.
Symptoms
Check Coolant Warning,
Low Engine Coolant Message
Engine Overheating
What you will need
Instructions
Step 1 - Open Hood
Locate the hood release underneath the dashboard of your BMW 3-Series Pull the lever until you hear the BMW hood pop open. Next, you need to release the hood safety latch at the front of your 3-Series.
Lift up the hood and secure it in the open position.
Step 2 - Locate Coolant Reservoir
Next, you locate the coolant reservoir (tank) on your BMW. This is where you can check coolant level and add coolant if the level is low. On a 3-Series the coolant expansion tank is located on the passenger side of the engine.
Open the cap slowly. 
Open the cap when the engine has cooled down.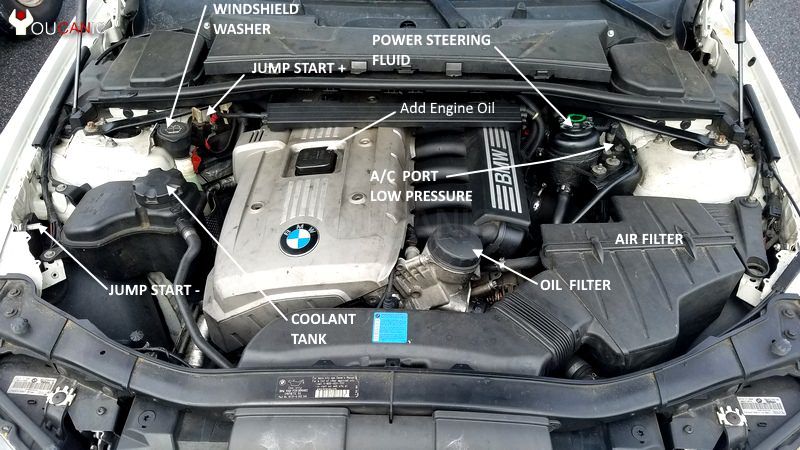 Step 3 - Check BMW 3-Series Coolant Level
Remove cap. Look at the coolant reservoir tank and note the low and high level. If the level is below the minimum mark you will need to add coolant or your 3-Series may overheat. BMW 3-series uses the floating device to determine coolant level.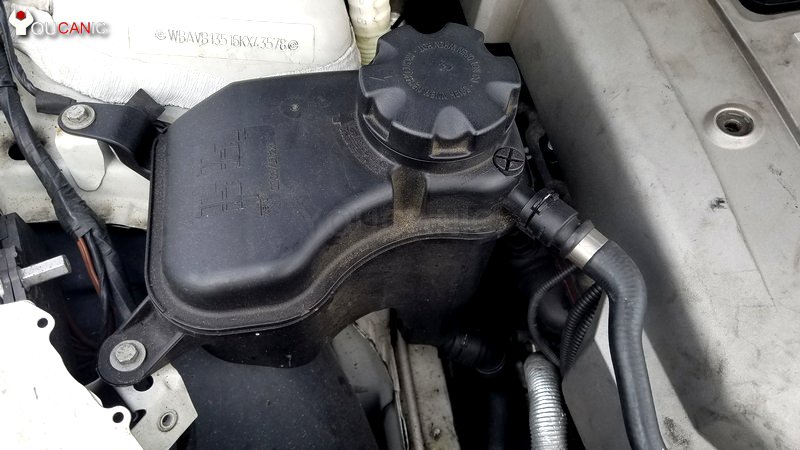 Step 4 - Add Coolant / Antifreeze
Add engine coolant/antifreeze. Only add colant type recommended by BMW .