Dodge Key Fob Battery Replacement Instructions
In this guide, you will find videos on how to change Dodge key fob battery on various remotes. Scroll until you find the Dodge remote that matches yours. Note that the battery type used on each remote is different. 
Owners of Dodge, Ram Trucks, vehicles such as the Dart, Avenger, Challenger, Charger, Durango, Journey, Grand Caravan, 2500, 3500, 4500, 5500, C/V Tradesman,  200, 300 and Town & Country will find these DIY instructions helpful.
🔺
Dodge Keyfob Battery Change
Step 1. Release the metal key. There is a small tap that you need to press down and the metal key will slide out.
Step 2. Use the metal key to remove the back cover on your Dodge keyless remote.
Step 3. Slide out old battery. Slide new battery in. Check orientation of battery ensuring that you are not placing it backward.
Step 4. Snap the battery cover back in place. Step 5. Get outside the car and press Unlock / Lock buttons. If the battery installation was performed successfully the doors should lock/unlock.
Dodge 3 Button Keyfob Battery Replacement
This Dodge key uses CR2032 battery. We would recommend that you use a lithium battery such as Energizer 2032 3-Volt lithium battery, they last longer and have great reviews on Amazon. This may be referred to as the 5 button Dodge remote but in some cases, it may only have 3 buttons.
This Dodge key is found on the following Dodge models:
Dodge Charger with Keyless Remote Smart Key Fob
Dodge Journey with Smart Key Keyless Remote Proximity Fob
Dodge Ram 1500 2500 3500 Pickup Truck Remote Fob Prox
Dodge Durango 2011 2012 2013 2014 2015 2016 2017
Dodge Dart 2011 2012 2013 2014 2015 2016 2017
Dodge Challenger 11, 12, 13, 14, 15, 16, 17
Step 1. Flip over your Dodge remote and on the back you will see a small release switch. Press it down with a flat screwdriver and it will release the metal/emergency key. 
Step 2. Once you remove the metal key you will notice that there is a notch where the metal key was inserted. 

Step 3. Use a coin, flat screwdriver or the metal key to separate the key fob remote housing. You can pry apart the remote by twisting your object counterclockwise. 
Step 4. Once you open up the keyfob you will see the battery inside. Use the metal key or the screwdriver to pry out the old battery.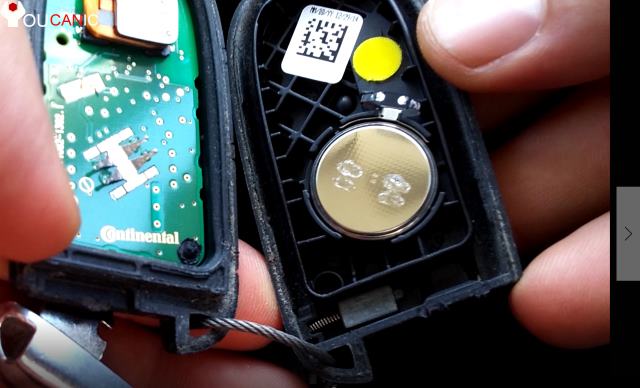 Step 5. Once you pop out the old battery, slide a new CR2032 battery and press it in place. Make sure the positive "+" is not facing you. It should be facing the keyfob casing. 
Step 6. Align the key fob remove shell and press the two halfs together to close the remote. Be patient with this step. 
As a final step remember to slide in the metal key. Go near the car and press the "UNLOCK" and "LOCK" buttons to test the operation of the keyfob remote. 
🔺
Old Dodge/Chrysler Key Fob Battery Replacement
This Dodge key is used on older models. 
🔺