Engine Air Filter Replacement Nissan Quest 2011-2017
Updated 4 months 4 weeks ago
TIME REQUIRED:
Level 5 - Expert
Level 4 - Proficient
Level 3 - Competent
Level 2 - Beginner
Level 1 - Novice
Learn how to change engine air filter on Nissan Quest. Replacing the engine air filter on a Nissan Quest engine is very easy. In this tutorial, you will find step by step instructions and video on how to change Nissan Quest air filter. Typical time is about 10-20 minutes. Nissan Quest engine air filter replacement cost ranges between $40-$80 at the dealer or auto repair shop. DIY cost is in the $7-$15 range. It is recommended to change the engine air filter once a year or every 15,000 miles. This guide applies to Quest years: 2011 2012 2013 2014 2015 2016 2017
What you will need
No tools are needed to change Nissan Quest air filter.
Instructions
Step 1: Park and turn off your Quest
Park your Nissan. Turn off the ignition.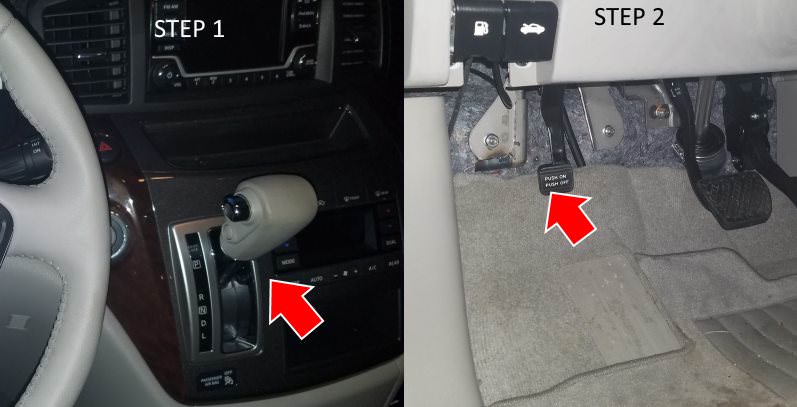 Step 2: Open Hood
Pull the hood release found on the driver's side dashboard of your Quest.
Step 3: Locate the air filter
In the following picture, the air filter is labeled as item 5.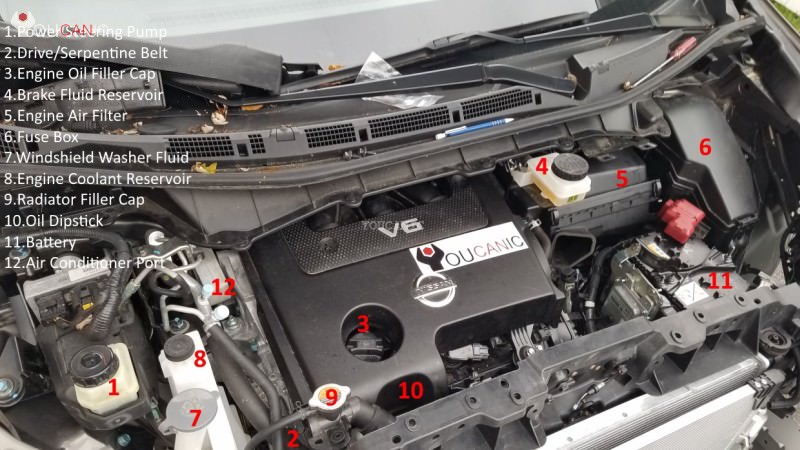 Step 4: Remove clips
Remove the screws that hold your Nissan Quest air filter housing in place.
Step 5: Lift up air filter housing
It is not necessary to completely remove the housing. Just lift it up to create enough room to remove the old air filter.
Step 6: Replace Nissan Quest air filter
Open the air filter housing and pull out the old filter from your Quest. Check out how dirty your Nissan Quest filter is. If the Quest filter housing is dirty clean it up and even vacuum it if necessary. Install new Nissan Quest air filter.