Fuse Box Location, Chart, Diagram Kia Optima 2011-2017
Published by YOUCANIC Automotive Experts 
Last Updated May 18, 2018 
Your Kia Optima has two fuse panels. The fuse panels are located in the following locations: 
Driver's side panel
Engine bay
The diagram and list of fuses for your car are listed below.
Fuse Type Used in Kia Optima: 
Notes:
If your vehicle's lights, accessories, controls, radio or cigarette outlet have stopped working check the appropriate fuse. A blown fuse will have the element inside melt. 
Always replace a blown fuse with the same rating fuse. If the new fuse blows again, this means that there is an electrical problem. Do not install a higher rated fuse. Installing a higher rated fuse could cause damage and possibly even fire. 
Always turn the ignition OFF when you are replacing fuses. 
Interior Fuses - Driver's Side of Dashboard
---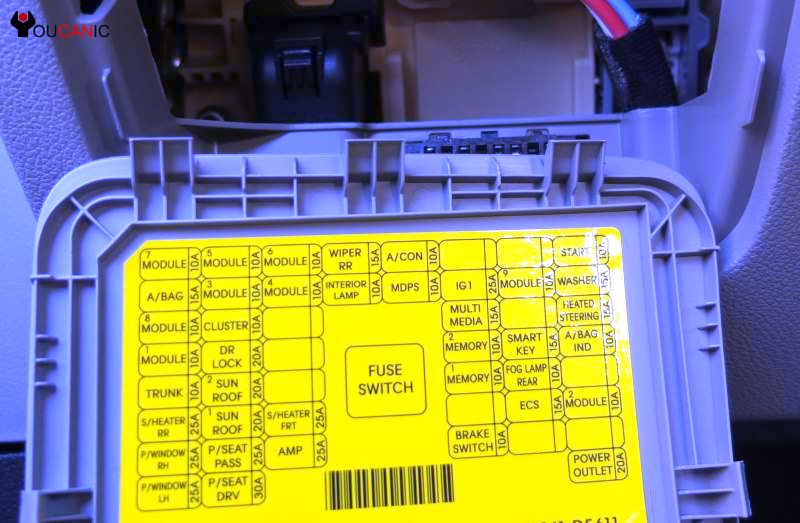 Fuse name
Fuse Rating [A]
Circuit protected
MODULE 7
10
Around View Unit, Front Air Ventilation Seat Control Module, Front Seat Warmer Control Module, Rear Seat Warmer Control Module
MODULE 5
10
A/C Control Module, Electro Chromic Mirror, Crash Pad Switch, Head Lamp LH/RH, Auto Head Lamp Leveling Device Module, A/V & Navigation Head Unit, Fuel Lid & Trunk Open Switch, Shift Lever Indicator, Driver IMS Module, Driver IMS Module, Front Air Ventilation Seat Control Module, Front Seat Warmer Control Module, Rear Seat Warmer Control Module
MODULE 6
10
BCM, Smart Key Control Module
A/CON
10
A/C Control Module, E/R Junction Block (Blower Relay)
START
10
[W/O Smart Key & IMMO.] ICM Relay Box (Burglar Alarm Relay)
[With Smart Key / IMMO.] Transaxle Range Switch, PCM (G4KH/G4KJ)
A/BAG
15
SRS Control Module, Passenger Occupant Detection
MODULE 3
10
BCM, ATM Shift Lever, Stop Lamp Switch, DBL Unit, Keyboard, A/C Control Module
MODULE 4
10
Console Switch, Blind Spot Detection Radar LH/RH, Smart Cruise Control Unit, AEB Module, Lane Keeping Assist Module
INTERIOR LAMP
10
Trunk Room Lamp, Ignition Key Ill. & Door Warning Switch, Glove Box Lamp, Driver/Passenger Smart Key Outside Handle, Front Vanity Lamp Switch LH/RH, Overhead Console Lamp, Center Room Lamp, Center Personal Lamp, Rear Personal Lamp LH/RH, Driver/Passenger Scuff Lamp
MDPS
10
MDPS Unit (Column/Rack), Steering Angle Sensor
IG1
25
PCB Block (Fuse ? TCU 2, ABS 3, ECU 3, VACUUM PUMP 2)
MODULE 9
10
Immobilizer Module, Smart Key Control Module
WASHER
15
Multifunction Switch (Wiper Low & Washer Switch)
MODULE 8
10
A/C Control Module, Driver/Passenger Door Module
CLUSTER
10
Instrument Cluster (IG1)
MULTIMEDIA
15
Audio, A/V & Navigation Head Unit, Keyboard
HEATED STEERING
15
BCM (Steering Wheel Heated)
MODULE 1
10
Console Switch, Key Solenoid, Driver/Passenger Door Module
DR LOCK
20
Door Lock Relay, Door Unlock Relay
SMART KEY
15
Smart Key Control Module
A/BAG IND
10
Instrument Cluster (Air Bag IND. Power)
TRUNK
10
Trunk Lid Relay, Fuel Filler & Trunk Open Switch, Trunk Lid Motor, ICM Relay Box (Fuel Filler Open Relay)
SUNROOF 2
20
Sunroof Control Unit (Roller)
MEMORY 1
10
Instrument Cluster, A/C Control Module, Data Link Connector, BCM, Wireless Charger, Driver IMS Module, Rain Sensor, ICM Relay Box (Outside Mirror Folding/Unfolding Mirror Relay), Security Indicator, Auto Light & Photo Sensor, Driver/Passenger Door Module, Electro Chromic Mirror
S/HEATER RR
25
Rear Seat Warmer Control Module
SUNROOF 1
20
Sunroof Control Unit (Glass)
S/HEATER FRT
25
Front Air Ventilation Seat Control Module, Front Seat Warmer Control Module
MODULE 2
10
Audio, A/V & Navigation Head Unit, Keyboard, Around View Unit, AMP, Power Outside Mirror Switch, Smart Key Control Module, BCM, Wireless Charger, Rear USB Charger #1/#2, E/R Junction Block (Power Outlet Relay)
P/WINDOW RH
25
Power Window RH Relay, Rear Power Window Switch RH, Power Window Main Switch, Passenger Safety Power Window Module
P/SEAT PASS
25
Passenger Seat Manual Switch, Walk In Relay Module, Passenger Reclining Limit Switch
AMP
25
AMP (JBL)
BRAKE SWITCH
10
Stop Lamp Switch, Immobilizer Module, Smart Key Control Module, Start/Stop Button Switch
P/WINDOW LH
25
Power Window LH Relay, Rear Power Window Switch LH, Power Window Main Switch, Driver Safety Power Window Module
P/SEAT DRV
30
Driver Seat Manual Switch, Driver IMS Module
POWER OUTLET
20
Front Power Outlet #1, Front Cigarette Lighter & Power Outlet #2
Fuse Box in Engine Bay
---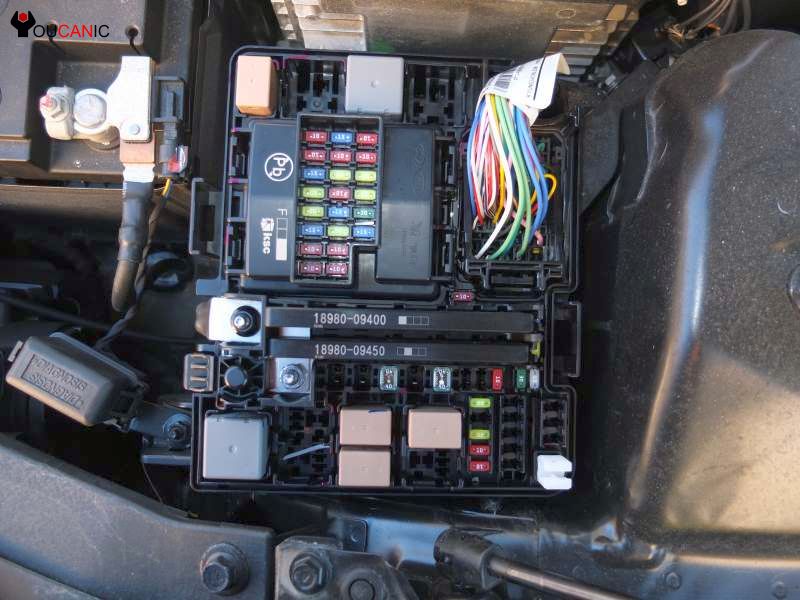 Fuse name
Fuse rating
Circuit protected
MULTI FUSE
MDPS1
80
MDPS Unit (Column)
COOLING FAN 2
60
[G4KH/G4FJ] Cooling Fan1 Relay, Cooling Fan2 Relay
COOLING FAN 1
50
[G4KJ] Cooling Fan1 Relay
B+ 3
50
Smart Junction Block (IPS 2 (IPS 5), IPS 3 (IPS 6), IPS 7, IPS 8)
REAR HEATED
50
Rear Heated Relay
DCT1
40
[G4FJ-DCT] TCM
BLOWER
40
Blower Relay
POWER OUTLET 1
40
Power Outlet Relay
IG2
30
[W/O Smart Key] Start Relay, Ignition Switch,

 

[With Smart Key] Start Relay, PCB Block (IG2 Relay)

MDPS 2
100
MDPS Unit (Rack)
B+1
60
Smart Junction Block (Fuse ? SUNROOF1, SUNROOF2, S/HEATER RR, P/SEAT DRV, P/SEAT PASS, P/WINDOW LH, P/WINDOW RH, TRUNK)
B+5
60
PCB Block (Engine Control Relay, Fuse ? TCU1, ECU2, FUEL PUMP, HORN, WIPER1)
B+2
60
Smart Junction Block (IPS 1, IPS 4, Fuse ? AMP, S/HEATER FRT)
ABS1
40
ESC Module
IG1
40
[W/O Smart Key] Ignition Switch,

 

[With Smart Key] PCB Block (IG1/ACC Relay)

DCT 2
40
[G4FJ-DCT] TCM
ABS 2
30
ESC Module, Multipurpose Check Connector
FUSE
B+4
40
Smart Junction Block (Leak Current Autocut Device Fuse ? INTERIOR LAMP, MEMORY1, MULTI MEDIA, Fuse ? DOOR LOCK, MODULE1, SMART KEY, BRAKE SWITCH)
E-CVVT 1
40
E-CVVT Relay
VACUUM PUMP 1
20
Vacuum Pump
DEICER
20
Deicer Relay
AMS
10
Battery Sensor
E-CVVT 2
20
PCM
A/CON
10
A/C Control Module
E-CVVT 3
20
PCM
HEATED MIRROR
10
A/C Control Module, Driver/Passenger Power Outside Mirror, ECM
WIPER 2
10
BCM, PCM/ECM
H/LAMP HI
20
Head Lamp HI Relay
FUEL PUMP
20
Fuel Pump Relay
ECU 1
20
PCM/ECM
SENSORS 2
10
E/R Junction Block (Fuel Pump Relay, Cooling Fan 1/2 Relay)
[G4KJ] Oil Control Valve (Exhaust), Purge Control Solenoid Valve, Variable Intake Solenoid Valve, CanisterClose Valve
[G4KH] Oil Control Valve (Exhaust), Purge Control Solenoid Valve, RCV Control Solenoid Valve, Canister Close Valve
[G4FJ] Oil Control Valve #1/#2, Purge Control Solenoid Valve, RCV Control Solenoid Valve, Canister Close Valve
TCU 2
15
Transaxle Range Switch, TCM
ABS 3
10
ESC Module, Multipurpose Check Connector
POWER OUTLET 3
20
Rear Power Outlet
B/UP LAMP
10
PCM/TCM, Transaxle Range Switch, Audio, Electro Chromic Mirror, Rear Combination Lamp (IN) LH/RH
SENSOR 1
15
Oxygen Sensor (Up/Down)
IGN COIL
20
Ignition Coil #1/#2/#3/#4
ECU 2
10
PCM/ECM
TCU 1
10
PCM/TCM
VACUUM PUMP 2
10
Vacuum Pump, Vacuum Switch
ECU 2
10
PCM/ECM
POWER OUTLET 2
20
Front Power Outlet #1
HORN
20
Horn Relay, ICM Relay Box (Burglar Alarm Horn Relay)
WIPER 1
30
Wiper Power Relay