Hyundai Airbag Light Troubleshooting Guide
Updated 1 year 1 month ago
In this article, we will go over the instruction on how to perform Hyundai airbag light reset, common causes that can trigger Hyundai airbag light. Follow the instruction below to learn how to reset Hyundai airbag light yourself.  In a latter section, we cover the most common airbag problems that we see in Hyundai cars. 
Problem Covered
Hyundai Airbag Light On
Hyundai Airbag Light Reset
Hyundai Airbag Light Flashing
Hyundai SRS Light On Continuously
Hyundai SRS Air Bag Light MOT Failed
Why this is important!
A common problem Hyundai owners experience is the airbag light turning on and staying on. Hyundai airbag light on means that there is a problem with the airbag system or a sensor malfunction. It is possible that the air bags in your car won't deploy in case of an accident.
Under normal operation, the airbag light in your instrument cluster will turn on for about five seconds when you turn on the ignition. The Airbag System does a quick self-check of all the sensors and components. If no problems are found the airbag light on your Hyundai should turn off. If there are any problems with any of the components, the light stays on.
Note, that all Hyundai vehicles including Accent, Sonata, Santa Fe, Elantra, Genesis, Azera are equipped with Supplemental Restraint System (SRS) which is often referred to as the airbag system in your vehicle. The Airbag System has many components including the SRS control module, retractors, retractor pre-tensioner assembly, crash and impact sensors, etc. 
Before you start troubleshooting the airbag light on your Hyundai, we recommend that you verify with your Hyundai dealer to check if your vehicle is still under warranty. If your Hyundai is still under warranty your dealer may diagnose and repair your car free of charge.
Back to top
Hyundai Airbag Light Reset Instructions
---
In this section, we will show you how you can read, erase or clear Hyundai airbag light using a diagnostic scanner. The fault codes that are stored in the Airbag Module (SRS Control Unit) provide accurate information describing why the airbag light is on. To read and clear the airbag light on your Hyundai you will need an OBD II diagnostic scanner that can retrieve airbag codes. Many Hyundai owners try to turn off the airbag light using a generic OBD-II code reader, but such scanners can't reset Hyundai airbag light. 
Read Codes / Turn off Hyundai Airbag Light Instructions
To read airbag codes, clear and turn off the airbag light on Hyundai you will need a scanner that can read Airbag Module codes. Hyundai dealerships use Hyundai GDS scanner which costs thousands of dollars, but there are a few aftermarket OBD2 scanners that can come to the rescue. Below we have provided a list of OBD2 scanners that can read and clear fault codes on Hyundai cars. These Hyundai airbag scanners range in price between $100-$200. 
How to Read Airbag Codes on a Hyundai
Locate the OBD-II port under the dashboard. 
Plug-in in one of the scanners mentioned above. Alternatively, you can use any OBD-II scanner that can read fault codes from Hyundai airbag control module. 
Turn the ignition to position II. All the dashboard lights turn on, but don't start your Hyundai. The airbag light comes on and stays on as well.
Select the Hyundai model (Elantra, Tucson, Accent, Santa Fe, Sonata, Genesis, Azera, Veloster, Equus etc.)
Select airbag / SRS in the menu. 
Select Read Codes. The scanner will communicate with airbag control module and retrieve the fault codes. You may get a code such as B1620 - Airbag unit internal failure. 
Hyundai Airbag Light Reset
Complete steps 1 through 5 as outlined above. The procedure for resetting the airbag light on Hyundai is similar to the method for reading fault codes. Next, instead of selecting Read Codes on step 6, select Clear Codes. Follow on-screen prompts to clear the airbag fault codes from your Hyundai control unit.
Note that certain codes cannot be erased if you haven't fixed the problem that triggered the airbag light in the first place. In other words, if an internal fault code is active or if a crash is recorded you won't be able to turn off the airbag light until you address these problems. 
Back to top
How much does it cost to fix air bag light on a Hyundai
---
Hyundai Dealer Cost: $250-$900
Auto Mechanic Cost: $100-$600
DIY Cost: $100-$350
If you call your Hyundai dealer or your local auto repair shop, they will ask you to take the car in for an air bag light diagnostics which can range between $80 and $130. You can diagnose Hyundai airbag light yourself following the instructions in this page. The dealer does the same diagnostics. The dealer will connect their diagnostic scanner to the OBD-2 port and read the fault codes from the airbag module. After they read the fault codes they have a better idea of what is wrong with your Hyundai and write you up a quote on how much it will cost to fix the airbag light on your Hyundai. It could be something as simple as the airbag light needing clearing (which you can reset if you have the right scanner), a defective clockspring (which you could replace yourself following this guide) or a problem with the passenger seat weight sensor. 
Why is my Hyundai Airbag Warning Light On?
---
The airbag module continuously monitors all the components that make up the airbag system. If the SRS module detects a sensor failure or high resistance to any of the sensors while vehicle power supply is on, the system stores a fault code in the SRS Control Unit. Once the airbag module detects a fault it will warn the driver by illuminating the SRS / Airbag warning light on the instrument cluster. That's how you the driver know there is a problem with your airbag system.  These codes can be retrieved and cleared with Hyundai GDS scanner or an advanced OBD2 scanner as described in this article. 
If the airbag light never comes on check the fuses under the dash. In the fuse box, you will see a 15A fuse dedicated to the Airbag or A/Bag. Inspect this fuse and replace if necessary. 
Back to top
Common Hyundai Airbag Light ON Causes 
---
Always read the airbag fault codes before you start replacing any components of the airbag system. 
The airbag light may have turned on and stayed on after you jump start your Hyundai. This is typically caused due to the car battery being discharged and not providing the necessary voltage for the airbag module to function properly. If the battery voltage drops below 9 bolt your Hyundai airbag light will come on and stay on until you clear the codes. When you scan the airbag module you will get a fault code that states that under voltage was detected by the airbag control unit. You can use one of the OBD2 scanners mentioned above to clear this fault code. See: How to turn off the airbag light in my Hyundai? Make sure you replace your old battery (or fix any alternator problems). Otherwise, the airbag warning light will turn back on.  
Seat Belt Buckle Defective
In certain Hyundai models, the seat belt buckle sensor wears out and eventually triggers the airbag warning light. This is because the microswitch inside the seat belt buckle wears out over time and eventually fails to function properly. The least expensive way to fix this problem is to replace the seat belt buckle. Replacement seat belt buckles can be purchased online at a fraction of the dealer prices, see here. 
Side impact sensor resistance
Side impact airbag sensor can be the culprit in some cases. The sensor is installed in the B-pillar or door panel. If the side impact sensor fails it will need to be replaced. Check the resistance of the side impact sensor. It should be between 1.7 and 2.3 ohms. Once the sensor is replaced, clear the fault codes as described in this article. 
Side impact sensor mounted on door panel. 
Airbag module high resistance
Often times you may get a code that states airbag module high resistance or open circuit. These fault codes can be for the driver airbag, passenger airbag, side airbag, curtain airbag, seat belt pre-tensioner and anchor pre-tensioner. If you get such a code the first thing that you should do is use a digital multi-meter and check the resistance of the offending airbag. It should be in the range of 1.7 and 2.3 ohms. 
We often find that the problem is not the airbag but the writing to the faulty airbag. For example, if you get driver airbag open circuit or high resistance in most cases the Hyundai airbag is not the problem but the clock spring may be the issue. 
Passenger Seat Sensor / Occupancy Sensor
Under the bottom cushion of the passenger seat of your Hyundai, you will find a weight sensor. Hyundai calls this Weight Classification System (WCS) and its main purpose is to detect if a light person or child is seating in the front passenger seat. These sensors fail over time and often trigger the airbag light to illuminate on the dashboard of your Hyundai. If the fault code (also referred to as Diagnostic Trouble Code -DTC) points to the weight sensor in the passenger seat, first check the wires under the seat. The electrical connector for the seat occupancy sensor often gets disconnected due to the frequent seat movement. In some cases, the weight sensors need to be replaced to fix this specific Hyundai airbag light on problem.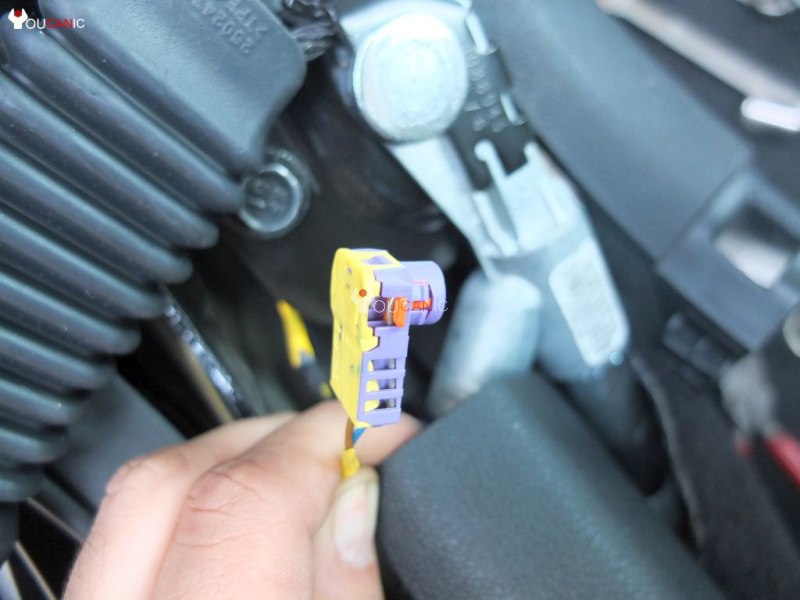 Other common problems that trigger Hyundai airbag light
Airbag impact sensors getting wet. Try clearing the fault codes. 
Airbag light may also come on if you hit a pothole. A loose contact can cause this. 
Clock spring defective. 
Hyundai Airbag Light Flashes
---
If the airbag light on your Hyundai is flashing that is because the airbag module (SRSCM - SRS Control module1) is either defective, isn't programmed correctly or it has been replaced but not programed. When you install a new Hyundai airbag module, you need to perform variant coding. You will need to take your Hyundai to the dealer or a specialized auto repair shop that is able to complete variant coding on your airbag module. 
Back to top
Airbag Fault Codes List - Hyundai SRS DTC
---
When you scan your Hyundai for fault codes you will get one of the following codes. 
B1102 Battery Voltage Low
B1326 FIS Front Impact Sensor Driver Short to Ground
B1327 FIS Front Impact Sensor Driver Short to Battery 
B1328 FIS Front Impact Sensor Driver Defect
B1101 Battery Voltage High
B1329 FIS Front Impact Sensor Driver Communication error
B1333 FIS Front Impact Sensor Passenger Defect
B1334 FIS Front Impact Sensor Passenger Communication error
B1335 FIS Front Impact Sensor Passenger Wrong ID
B1330 FIS Front Impact Sensor Driver Wrong ID
B1331 FIS Front Impact Sensor Passenger Short to Ground
B1332 FIS Front Impact Sensor Passenger Short to Battery 
B1341 Remote Crash Sensors Cross Coupling
B1346 Driver Airbag Resistance too High (1st stage)
B1347 Driver Airbag Resistance too Low (1st stage)
B1348 Driver Airbag resistance circuit short to Ground (1st stage)
B1349 Driver Airbag resistance circuit short to Battery (1st stage)
B1352 Passenger Airbag Resistance too High (1st Stage)
B1353 Passenger Airbag Resistance too Low (1st stage)
B1354 Passenger Airbag Resistance Circuit Short to Ground (1st Stage)
B1355 Passenger Airbag Resistance Circuit Short to Battery (1st Stage)
B1361 Pre-tensioner Front-Driver Resistance too High
B1362 Pre-tensioner Front-Driver Resistance too Low
B1363 Pre-tensioner front-Driver resistance circuit short to Ground
B1364 Pre-tensioner front-Driver resistance circuit short to Battery 
B1367 Pre-tensioner Front-Passenger Resistance too High
B1368 Pre-tensioner Front-Passenger Resistance too Low
B1369 Pre-tensioner Front-Passenger Resistance Circuit Short to Ground
B1370 Pre-tensioner Front-Passenger Resistance Circuit Short to Battery 
B1378 Side Airbag Front-Driver Resistance too High
B1379 Side Airbag Front-Driver Resistance too Low
B1380 Side Airbag Front-Driver Resistance Circuit Short to Ground
B1381 Side Airbag Front-Driver Resistance Circuit Short to Battery 
B1382 Side Airbag Front-Passenger Resistance too High
B1383 Side Airbag Front-Passenger Resistance too Low
B1384 Side Airbag Front-Passenger Resistance Circuit Short to Ground
B1385 Side Airbag Front-Passenger Resistance Circuit Short to Battery 
B1395 Firing Loops Interconnection Fault
B1400 SIS-Side Impact Sensor Front-Driver defect
B1401 SIS Side Impact Sensor Front-Driver Circuit Short to Ground
B1402 SIS Side Impact Sensor Front-Driver Circuit Short to Battery 
B1403 SIS Side Impact Sensor Front-Passenger Defect
B1404 SIS Side Impact Sensor Front-Passenger Circuit Short to Ground
B1405 SIS Side Impact Sensor Front-Passenger Circuit Short to Battery 
B1409 SIS-Side Impact Sensor Front-Driver Communication Error
B1410 SIS-Side Impact Sensor Front-Passenger Communication Error
B1414 SIS  Side Impact Sensor  Front-Driver Wrong ID
B1415 SIS-Side Impact Sensor Front-Passenger Wrong ID
B1473 Inflatable Curtain Airbag Front-Driver Resistance too High
B1474 Inflatable Curtain Airbag Front-Driver Resistance too Low
B1475 Inflatable Curtain Airbag Front-Driver Resistance Circuit Short to Ground
B1476 Inflatable Curtain Airbag Front-Driver Resistance Circuit Short to Battery 
B1477 Inflatable Curtain Airbag Front-Passenger Resistance too High
B1478 Inflatable Curtain Airbag Front-Passenger Resistance too Low
B1479 Inflatable Curtain Airbag Front-Passenger Resistance Circuit Short to Ground
B1480 Inflatable Curtain Airbag Front-Passenger Resistance Circuit Short to Battery 
B1481 Driver Airbag Resistance too High(2nd stage)
B1482 Driver Airbag Resistance too Low(2nd stage)
B1483 Driver Airbag Resistance Circuit Short to Ground(2nd stage)
B1484 Driver Airbag Resistance Circuit Short to Battery(2nd stage)
B1485 Passenger Airbag Resistance too High(2nd stage)
B1486 Passenger Airbag Resistance too Low(2nd stage)
B1487 Passenger Airbag Resistance Circuit Short to Ground(2nd stage)
B1488 Passenger Airbag Resistance Circuit Short to Battery(2nd stage)
B1489 PODS(Passenger Occupant Detecting System) ECU Defect
B1490 PODS(Passenger Occupant Detecting System) Sensor(Bladder) Defect
B1493 PODS(Passenger Occupant Detecting System) Communication error
B1494 PODS(Passenger Occupant Detecting System) Wrong ID
B1495 BTS(Belt-Tension Sensor) Defect
B1496 PODS(Passenger Occupant Detecting System)Not calibrated
B1511 Buckle Switch Driver open or short to Battery 
B1512 Buckle Switch Driver short or short to Ground
B1513 Buckle Switch Passenger open or short to Battery 
B1514 Buckle Switch Passenger short or short to Ground
B1515 Buckle Switch Driver Defect
B1516 Buckle Switch Passenger Defect
B1517 Buckle Switch Driver Instability
B1518 Buckle Switch Passenger instability
B1620 Internal fault-Replace SRSCM
B1650 Crash Recorded in 1st Stage Only(Frontal-Replace SRSCM)
B1651 Crash Recorded in Front-Driver Side Airbag(Replace SRSCM)
B1652 Crash Recorded in Front-Passenger Side Airbag(Replace SRSCM)
B1657 Crash Recorded in Belt Pre-tensioner only
B1658 Belt Pre-tensioner 6 times Deployment
B1670 Crash recorded in full stage(Frontal-Replace SRSCM)
B1683 Exceed Maximum Coding Number
B1684 ACU Configuration is different
B1738 P-SIS front – Driver Wrong ID
B1739 P-SIS Front-Driver Defect
B1740 P-SIS Front-Driver Short to Ground
B1741 P-SIS Front-Driver Short to Battery 
B1742 P-SIS Front-Driver Communication Error
B1744 P-SIS front - Passenger Wrong ID
B1745 P-SIS Front-Passenger Defect
B1746 P-SIS Front-Passenger Short to Ground
B1747 P-SIS Front Passenger Short to Battery 
B1748 P-SIS Front-Passenger Communication Error
B1762 ACU Coding Error
B2502 Passenger Airbag Telltale Lamp Failure
B2500 Warning lamp Failure
Hyundai Airbag Components and Location
---
For a diagram of the following components and their locations click here and here. 2
Driver Airbag (DAB) Module and Clock Spring 
Passenger Airbag (PAB) Module 
Side Airbag (SAB) Module 

In the front seat. Outer side of seat. 

Curtain Airbag (CAB) Module
Supplemental restraint system (SRS)
SRSCM (SRS Control Module)3 

Under the center console. Behind the cigarette outlet. 

Seat Belt Pre-tensioner (BPT)
Anchor Pre-tensioner (APT)
Front Impact Sensor (FIS)

By the headlights. Left and right. 

Pressure Side Impact Sensor (PSIS) 
Side Impact Sensor (SIS) 

Either on the door panel or B-pillar

Seat Track Position Sensor (STPS)
Weight Classification System (WCS)
References
---
Back to top