Best Hyundai Engine Air Filter
Looking for the best engine air filter for Hyundai? Choosing a good air filter is very important. A good air filter can help your Hyundai engine breathe better and improve MPG. Upgrading Hyundai engine air filter can provide a smoother running engine, better fuel economy and even quicker throttle response. If you are willing to change the engine air filter yourself you will be able to save time and money by avoiding the dealer or the auto mechanic.
In this article, we will take a look at the best engine air filters that you can buy for Hyundai vehicles such as Sonata, Accent, Elantra, Santa Fe, Tucson, Veloster.
To install an air filter on your Hyundai all you need is 5 minutes and a good replacement air filter that fits in the original filter housing. We are not talking about universal engine filter upgrades here. All you will need to do is lift up the two clips on the side of the air filter housing. Pull out the old air filter and slip in the new one. The dealer will charge you over $50 to do this. You can change the filter yourself in a matter of minutes.
Top 5 Best Engine Air Filter for Hyundai
---
Based on our research and experience this is a list of best engine air filter for Hyundai vehicles. If you have a filter that you like and don't see it on this list, use the comment section to share your favorite filter.
5. EPAuto Hyundai Engine Air Filter
If you are looking for a cheap air filter for your Hyundai, EPAuto is a good choice. These are paper air filters and meet the OEM requirements. These filters provide excellent engine protection. Overall the performance is similar to the stock Hyundai engine air filter. The filters are the same dimensions as the factory Hyundai filter, so they fit into the existing filter box without a problem.
4. Beck Arnley Air Filter
Check Price: Beck Arnley Hyundai Filter
Beck Arnley has been manufacturing car parts for years. They also make air filters for Hyundai vehicles. You can never go wrong with Beck Arnley parts. While this will not provide any performance upgrade, the Beck Arnley meets and exceeds OEM specifications. In average, Beck Arnley filters made for Hyundai vehicles cost less than the original Hyundai filters. These filters have countless positive reviews on Amazon as well.
3. Genuine HYUNDAI OEM Engine Air Filter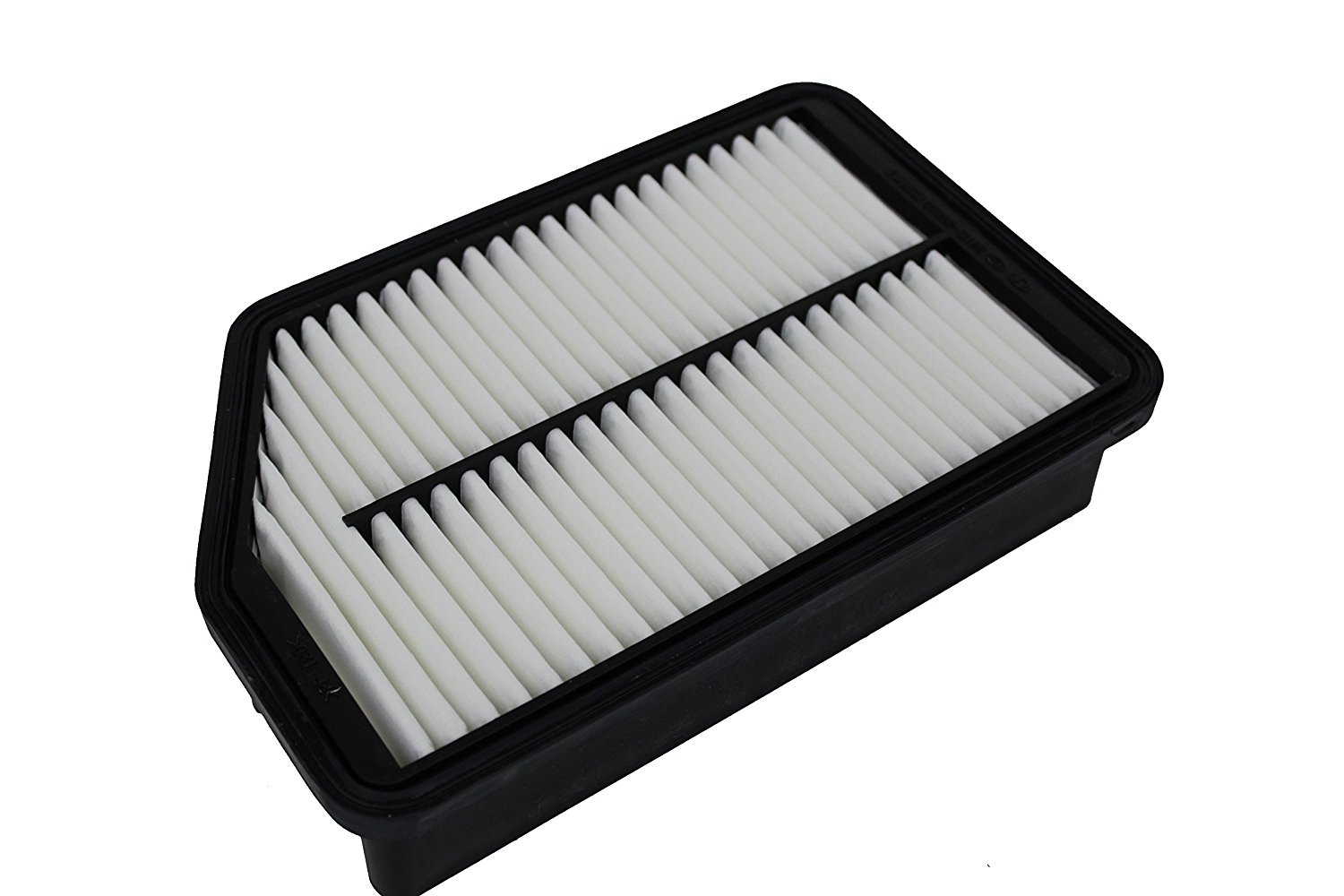 Check Price: OEM Hyundai Air Filter
You can't go wrong with the stock Hyundai engine air filters. These filters are typically paper air filters. That's what will be installed in your Hyundai when it leaves the factory, and that is what the Hyundai dealer will use to replace the old one. Stock Hyundai engine air filters provide an excellent engine protection. While these filters may not provide the best air flow, they have been proven to provide the best engine wear protection.
2. Fram Hyundai Engine Air Filter
Check Price: Fram Hyundai Air Filter
Fram engine air filters are sold at most auto parts stores. You will find replacement Fram engine air filter that will perfectly in any Hyundai air filter box.
Fram filters provide great engine protection. There is no doubt about that. Our concern is that the added protection comes at the cost of air flow. You can't go wrong with Fram filters. A new Fram filter will be better than a dirty filter. The nice things about Fram filters is that they manufacture Hyundai filters to match the OEM filter and they fit perfectly.
The only minor issue we have had a few times with FRAM filters is that the orange rubber outer edge in a few cases has been thicker than the stock filter making it a little bit harder to lock the filter housing.
1. K&N Engine Air Filter for Hyundai
Check Price: K&N Hyundai Air Filter
You can get a K&N washable and reusable engine air filter that will fit in the existing air filter box of your Hyundai Elantra, Sonata, Santa Fe, Tucson, and Veloster. Initial cost of K&N air filter is higher, but in the long run, it costs less because they are reusable. When the K&N filter gets dirty, you don't need to dispose of it. Just use the recharge kit to clean your filter, and it will be as good as new.
Advantages of K&N air filter
K&N air filters are designed to improve air flow, engine throttle response, acceleration and in some cases you may even notice increase horsepower. Here is a short list of pros of K&N air filters.
Provide high air flow.
Filters for all Hyundai vehicles. Will fit in the stock air filter housing.
Can be used for up to 50,000 before it needs to be re-oiled.
If you don't mind having to wash and oil the engine air filter once ever one or two years, then this is an excellent upgrade option when it comes to replacing your Hyundai engine air filter.
Don't expect your gas mileage to double and horsepower to increase 20% just by installing a K&N air filter. Based on our research we found that K&N air filters don't provide the same superior protection often offered by stock Hyundai engine air filters.
Hyundai Air Filters Part Number
Are you looking for the Hyundai engine air filter part numbers? Here is a list of some of the most popular and best-selling filter part numbers for different Hyundai models.
Filter Lookup
ACCENT 1.6L ENGINE 2012 - 2015
28113-1R100, 28113-B2000, CA11206, 49022, AF5206, A6200, AF6200
Azera 2011-2015
28113-2P100 281132P100
Azera Santa Fe Sonata Kia Optima Sorento
SA10881, 042-1812, AF5185 CA10881, 49250, 28113-2P100
ELANTRA 1.8L ENGINE 2011 - 2012
AF6118 28113-2S000, 28113-2S000, 28113-3X000 CA10889, A26118, AF5187, 49210
Engine Air Filter fits Hyundai 3.3L 3.8L
28113-3K200, CA10084
Genesis 2009-2011 3.8L
281133M000
SANTA FE 2007-2009
28113-2B000 A5833
Santa Fe 2010-2012
28113-2P100 281132P100
Santa Fe 2013-2016
28113-2W100
Sonata 2006-2010
28113-3K010
28113-3K010
CA10083 AF4001 PA-513 49156, 17801-0P010, 17801-31090, CA10083
Sonata 2010-2014
28113-2P100 281132P100
Tucson 2005 to 2010
CA10086
Veloster 2012-2015
AF6200, A6200, 281131R100, AF5206, CA11206, 49022, 83022
How to replace engine air filter on a Hyundai
---
These video clips were recorded on a 2016 Hyundai Elantra but owners of other models such as Veloster, Azera, Santa Fe, Sonata, Elantra, Accent and Sedona will find these instructions helpful.
Step 1: Open Hood
Step 2: Remove Old filter
Step 3: Install new filter