Mazda Ignition Coil Replacement DIY Guide
Updated 1 year 1 month ago
TIME REQUIRED:
Level 5 - Expert
Level 4 - Proficient
Level 3 - Competent
Level 2 - Beginner
Level 1 - Novice
DIY guide on how to replace the ignition coil on Mazda. These instructions were written specifically for Mazda four-cylinder engines and apply to Mazda 3, 5, 6, CX5 CX7 CX9. Replacing all four ignition coils on a Mazda is easier than changing the oil. It takes less than 30 minutes to change all four coils. Replacing the ignition coils is an easy job even for beginner DIYers and can save you several hundred dollars. We called Mazda dealers and were quoted $424 for new ignition coils and $195 for labor. Over $600 USD to change the ignition coils on a four-cylinder Mazda. Why not buy Mazda ignition coils online and replace them yourself in less than one hour. By changing the ignition coils yourself you can save over $500.
If you need help with replacing both ignition coils and spark plugs on a Mazda, check out this DIY guide. 
Back to top
Symptoms
Engine Misfiring
Rough Idle
Loss of power
Car will not start or dies at idle
Back to top
What you will need
Back to top
DIY Instructions on how to change Mazda ignition coil
Follow these instructions to replace the ignition coil on four-cylinder Mazda vehicles.
Step 1
Park you Mazda on a level ground. Allow the 5 engine to cool down.
Step 2
Pull the hood release on your Mazda and open the hood.
Step 3
It is recommended to disconnect the negative battery terminal on your Mazda. 
Step 4
Remove the engine cover. The engine cover is held in place with four tabs and no screws. You simply grab it on both sides and lift it up.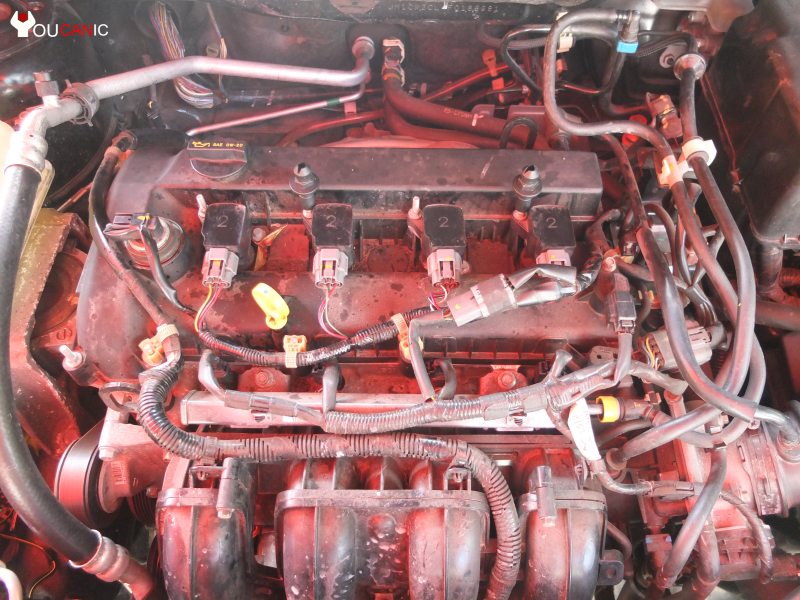 Step 5
Unplug the electrical connector from the igntion coil. Press on the small tab then pull. Do this for all four coils.
Step 6
Remove the 10mm bolts that secure the coil in place.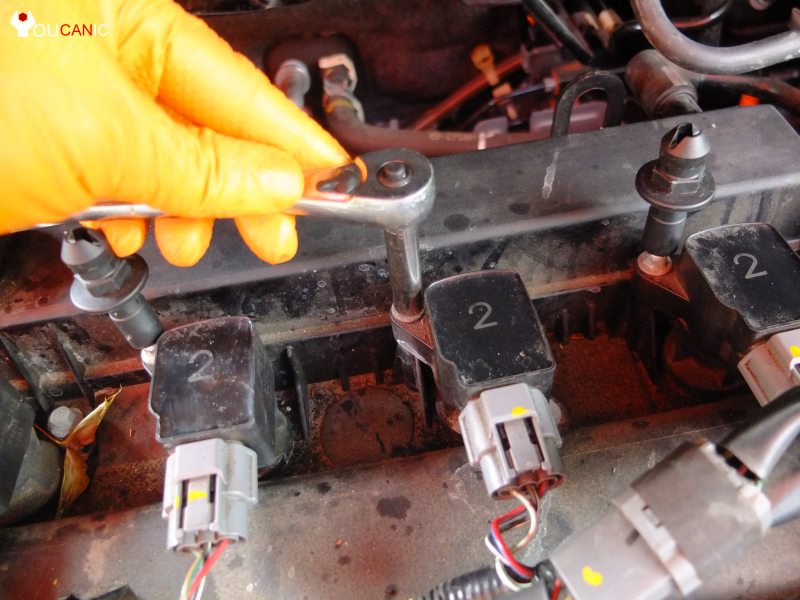 Step 7
Remove ignition coils from the engine. If the coils don't come out easily, try twsiting and pulling them at the same time.
Step 8
Install new ignition coils on your Mazda.
Step 9
Reinstall engine cover.
Important Notes
It is recommended to disconnect the negative battery when replacing the ignition coils. 
If the old ignition coils don't come out, try twisting the coil as you pull it out. 
Take pictures before you remove the coils. You can move coils around but the electrical connectors cannot be moved from one cylinder to another. 
Back to top
How much does it cost to change Mazda ignition coils
On September 18, 2017, we called Mazda of Morristown in New Jersey to get a quote to replace ignition coils on a 2014 Mazda 3. Here is the quote that we received. 
Parts (Four Coils) = 4x$106=$424
Labor to change all four coils: $195
Average cost to change ignition coil at Mazda dealerships is $600-$650 USD. The cost to replace the ignition coils yourself is between $30 and $100.
Back to top
Can I change only one ignition coil on a Mazda? 
Yes, if only one of the ignition coils has failed you can replace only one coil. Most mechanics and dealerships don't recommend replacing only one coil for a couple of reasons. If one failed, another one may fail in the near future. Also to avoid any performance issue, it is recommended to change all four. If you are in a tight budget, at minimum replace the one bad coil. 
Back to top
How often should I change ignition coil on a Mazda? 
It is not necessary to change ignition coils on a Mazda unless at least one of them fails. Ignition coils can last up to 200,000 miles. In a few cases, we have seen ignition coils fails as early as 60,000 miles.
Back to top