How to replace a BMW battery yourself
Published by YOUCANIC Automotive Experts 
Last Updated Feb 21, 2019 
In this article, you will learn how to replace a BMW battery yourself. These step-by-step instructions contain pictures and videos clips to help you safely replace the a BMW battery. You will also find instructions on how to perform BMW battery registration which is required on 2002 and newer BMWs.
🔺
Symptoms
Signs that you need to replace a BMW battery: 
BMW won't start
The battery doesn't hold a charge
High battery discharge warning on the instrument cluster
Engine struggles to turn over
🔺
What you will need
Tools you may need
To change the battery on a BMW you will need a few tools such as: 
Basic Tools

10mm,
13mm socket,
ratchet

12 Volt Backup battery supply (Optional)
Protective glasses
🔺
Instructions
These instructions are meant to help all BMW owners who have a 2002 and newer BMW.
Locate the BMW battery in the trunk
In newer BMW you will find the battery in the trunk. Typically they are on the right (passenger) side of the trunk. If you have a station wagon BMW, the battery is under the carpet on the trunk floor. 
Disconnect negative battery terminal
Start by disconnecting the negative battery terminal. Loosen the 10 mm nut but do not remove it. Pull the cable away from the negative battery terminal.
Disconnect positive battery terminal
Next, disconnect and remove the positive battery terminal. You will need to lift up the red plastic cover. Under this you will find the 10 mm nut you need to loosen up.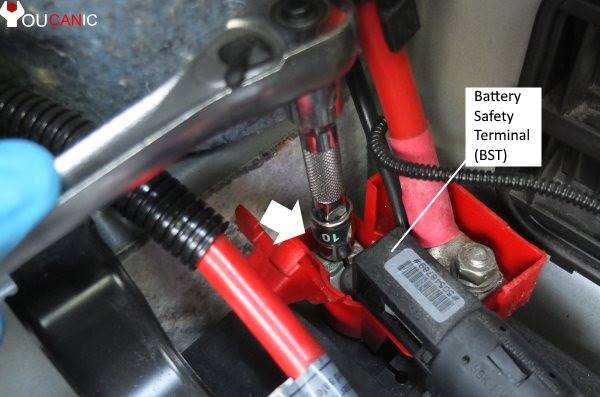 Important
Be careful to not damage the Intelligent Battery Sensor (IBS) attached to the battery cables.
It is important to use common sense and avoid any shorts between the positive terminal and the negative or the body.    
Watch a video on how to disconnect the battery terminals on a BMW. 
Remove battery bracket
The battery is held in place with a bracket on the side and a top bracket. First, remove the top bracket by removing two 13 mm bolts.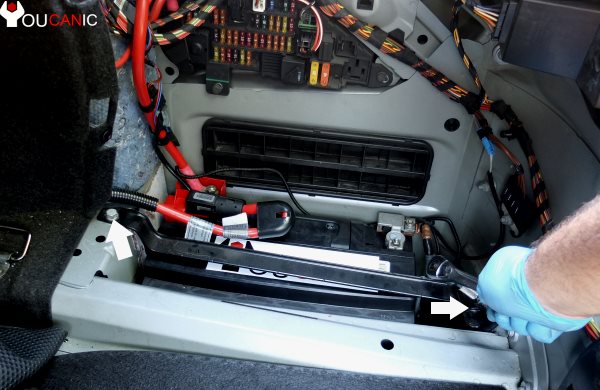 Watch a video on how to remove the battery on a BMW. 
Remove the old battery
Now it is time to remove the old battery. These batteries are extremely heavy. If you have someone nearby, ask for help.
Install the new battery
Lower the new battery in place and make sure it is sitting properly.
Secure Battery
Reconnect the bracket brackets.  Do not over tighten them or you will crack the battery housing.  If you are installing a lead acid battery make sure to connect the vent hose. This is necessary so that gasses from the vent hole don't build up inside the trunk. 
Clean the battery posts
Use a battery terminal brush to clean the battery clamps.
Connect the battery terminals. 
Connect the positive battery terminal first. Connect the negative terminal last.
 Register the new battery
Now it is time to register the new battery. The BMW battery registration process resets your vehicle's battery charging history. It deletes any stored battery and temperature statistics for the previous battery. Vehicle odometer reading won't be lost during the process.
Current odometer reading which indicates when the battery was replaced will be stored in the DME module. The easiest scanner to use that allows you to register a BMW battery is Foxwell NT510 for BMW, but Carly for BMW is also a popular choice. Note that both scanners cost is in the same price range. With the Carly setup, you will need to buy the Pro app and also an add-on to register the battery. In the end, you are looking at close to $150. 
If you changed the battery type from AGM to lead acid or you changed battery capacity from 90Ah to 80Ah, you will need to perform coding as well as battery registration. If the replacement battery has the same specs and is the same type as the previous battery, perform battery registration. During battery registration procedure all charging data and history of the old battery are deleted from the CAS module. Read the article on how to perform BMW battery registration. 
When you replace a BMW battery but ignore the registration procedure not only will your new battery fail prematurely but you may experience electrical issues or warn on your instrument cluster.
🔺
How to perform BMW Battery Registration 
Step-by-step instructions on how to register BMW battery. 
🔺
BMW Battery Replacement Cost
The total cost to replace BMW battery yourself is about $350. You will spend about $200 on a new battery. For more information read this article on Choosing the best aftermarket battery for BMW.  Plus you will need to spend around $100-$150 for a BMW scan tool.
Some of the best scanner for BMWs are Carly for BMW and Foxwell NT510 for BMW. At the end of this process not only will you spend less money, but you will end up with a BMW scan tool that you can use to troubleshoot your BMW in the future. 
🔺
Additional Tips
Here are a few tips that will help you with the battery replacement process.  
To save the memory functions on your BMW, you can use a jump starter as a backup. You connect the backup battery at the ground and positive terminals under the hood. This is the terminals used to you jump start your BMW. Lithium jump starters work great for this purpose. 
If you don't use a battery as a backup, you will need to perform synchronization of radio presets, seats, windows, steering wheel, sunroof etc. Re-syncing a BMW take only a few minutes. When using a backup battery be extremely careful so that the positive terminal doesn't short to ground or the body once you remove them from the battery. Cover the positive terminal with tape so that it doesn't accidentally touch any other metal body parts. 
Always remove the key from the ignition and keep it removed during the whole process of replacing a BMW battery. 
Replacing a BMW battery yourself is possible. Just make sure to perform battery registration and coding using any of BMW scan tools we mentioned or your favorite BMW scanner. 
If your BMW had an AGM battery installed at the factory, stick with AGM battery type whenever possible. Another important factor you need to consider is the battery capacity which is provided in ampere-hour or Ahr. If your BMW has a 90 Ahr battery don't switch to 60Ahr battery. 
The reason why these specifications are important is that if you change one of them, you will need to code your BMW so that your car knows how to charge the new battery, on top of that you need to still perform battery registration. Battery registration deletes all the charge profile of the old battery. If a previous owner installed the wrong battery call your dealer and ask what battery your BMW requires.
🔺
Frequently Asked Questions
Can you install an aftermarket battery on a BMW?

The battery can be an aftermarket AGM battery. It doesn't have to be an OEM BMW battery but it needs to meet the recommended specifications. It also needs to be coded and programmed so that DME module knows how to charge it. While the battery type, capacity and cranking amps can vary from the stock OEM battery, battery size needs to be the same. For example, a couple batteries that are in the same group size as the OEM BMW battery and are worth considering are: 
How much does it cost to change BMW Battery?

Replacing BMW battery at the dealer - Replacing the battery at your BMW dealership costs anywhere from $400-$550. You can still change a BMW battery yourself, do it right, and still save money. This guide shows you how to change a BMW battery
DIY BMW Battery Replacement - Replacing the battery yourself is very easy and straightforward. Especially if you install a new battery with the same specs as the original. To change a BMW battery the right way, you will also need a scan tool that can perform battery registration. Read this article to find scan tools that can perform BMW registration. 
What is the best battery for BMW?

You don't need to cut corners and install the wrong battery size on your BMW. There are many aftermarket batteries that fit BMW and meet the specifications required by BMW. One important factor to consider besides the group size is the battery type. If your BMW battery has a white casing it means it is a lead-acid battery. If the battery casing is black, it means it is an AGM battery. 
The best way to identify the battery you need is to look at the label on your existing battery. If your battery is aftermarket, just call your BMW dealer, give them your VIN number and they will tell you the specs. 
Which BMWs require battery registration?

2007 or latest X5 E70 chassis/platform
2006 or latest 3-Series E90/E91/E92/E93 chassis/platform
2005 or latest X5 E53 chassis/platform with the N62 engine
2004 or latest 5-Series E60/E61 chassis/platform
2003 or latest 6-Series E54/E63 chassis/platform
2002 or latest 7-Series E65/E66 chassis/platform
2008 or latest X6 E71 chassis/platform
Do I need to run battery registration if I disconnect the negative battery terminal?

If you need to disconnect the negative battery terminal to perform maintenance on your BMW you don't need to perform battery registration upon reconnection. Assuming you reconnect to the same battery.
​​​​​
🔺