How To Replace Ignition Coil Nissan Infiniti 3.5L V6 Engine
Updated 10 months 3 weeks ago
TIME REQUIRED:
Level 5 - Expert
Level 4 - Proficient
Level 3 - Competent
Level 2 - Beginner
Level 1 - Novice
Instructions on how to replace ignition coil on Nissan/Infiniti 3.5L V6 engine. While it is recommended to replace all the coils at the same time whenever possible, replacing only the faulty coil is an acceptable solution. If the coil is replaced with the same brand as the rest of the coils, you shouldn't  notice any performance issues in cases when only one coil is replaced. This particular engine is known with code VQ35DE and is installed on many Nissan and Infiniti models such as Altima, Maxima, Murano, Pathfinder, Quest, 350z, G35 M35 and more. 
The cost to replace the Nissan ignition coil yourself ranges from $60-$100 assuming you are replacing all six coils and you have a few basic tools.
Back to top
1.

Symptoms
Check Engine Light On
Engine Misfiring
Catalytic Converter Glowing Red
Rough Idle
Loss of power
Car will not start or dies at idle
Back to top
2.

What you will need Back to top
3.

Instructions
Step 1: Park Vehicle
Park you Nissan on a level ground. Allow the Quest engine to cool down.
Step 2: Open Hood
Pull the hood release on your Quest and open the hood.
Step 3: Disconnect Negative
Disconnect the negative battery terminal on your Quest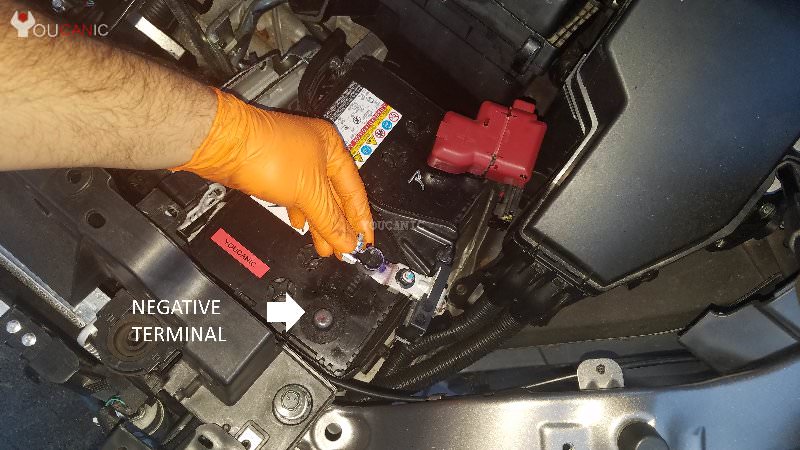 Watch a video to learn how to perform this step.
Step 4: Remove Engine Cover
Remove the engine cover. You will need to remove two 10 mm bolts in order to remove the engine cover.
Step 5: Disconnect Ignition Coil
Unplug the electrical connector from the ignition coil. Press the small tab then pull.
Do this for three coils.
To replace the other three coils you will need to remove the intake manifold.
Step 6: Remove Bolts
Remove the 10mm bolts that secure the coil in place.
Step 7: Remove Ignition Coil
Remove ignition coils
Step 8: Install new Coils
Install new ignition coils on your Nissan.
Step 9: Reinstall Engine Cover
Reinstall engine cover. Connect the negative terminal and start the car.
Back to top
4.

Applications
Infiniti QX60 (since 2014)
Nissan Altima (since 2002)
Nissan Maxima (since 2002)
Nissan Murano Z50 (since 2003)
Nissan Pathfinder (since 2013)
Nissan Quest (since 2004)
Nissan 350Z (2003–2006)
Nissan Pathfinder (2001–2004)
Infiniti FX35 (2003–2008)
Infiniti G35 Coupe (2003–2007)
Infiniti G35 Sedan (2003–2006)
Infiniti I35 (2002–2004)
Infiniti JX35 (2013–2013)
Infiniti M35 (2006–2008)
Infiniti QX4 (2001–2004)
Back to top
5.

Additional Resources
Nissan Spark Plug Replacement Procedure NissanHelp.com
Video: How to chance ignition coil/spark plugs on Nissan Maxima
Back to top