How to replace Mazda engine air filter
Updated 1 year 1 month ago
TIME REQUIRED:
Level 5 - Expert
Level 4 - Proficient
Level 3 - Competent
Level 2 - Beginner
Level 1 - Novice
Learn how to change the engine air filter on a Mazda. The pictures and video clips on this guide were recorded on a Mazda 5, but these instructions will help owners of Mazda 3, +, CX5, CX7, CX9 as well which have the same setup. In fact the same air filter fits several Mazda engines including the 2.0L and 2.5L engines.  You will need 15 minutes to replace engine air filter on a Mazda. 
Back to top
What you will need
---
Parts Needed
Replacement Air Filter (only one): 
The air filter part number is different for each Mazda depending on year and model. We have provided links below where you can check price and buy aftermarket Mazda air filters. 
WIX 49247
Mahle LX3497
Ecogard XA6280
Mazda PE7W-133A0
AEM 28-20480
If you are looking for the best performance air filter a good choice would be K&N Air Filters. If you are looking for an air filter that allows the least amount of dust into the engine Fram does a good job but it can also restrict the air flow. If you are looking for a good overall filter at a good price Purolator engine filter are a good choice. Unless you like to go with OEM filter then a Genuine Mazda Air Filter (part# PE07-13-3A0, PE07-13-3A0A) is what you need. 
Tools Needed
Back to top
Instructions Mazda Engine Air Filter Replacement
---
Follow these instructions to change the engine air filter on a Mazda. 
Step 1: Park and turn off your Mazda
Park your Mazda. Turn off the ignition.
Step 2: Open Hood
Pull the hood release found under the dashboard on the driver's side.
Step 3: Locate engine air filter
In Mazdas, the engine air filter (air cleaner box) is in the engine bay. It is located on the left/driver side of the engine. Here is a close-up picture of how the air filter cleaner box looks like.
Step 4: Remove clips
To remove the air filter you first need to release the two metal clips that secure the air filter housing.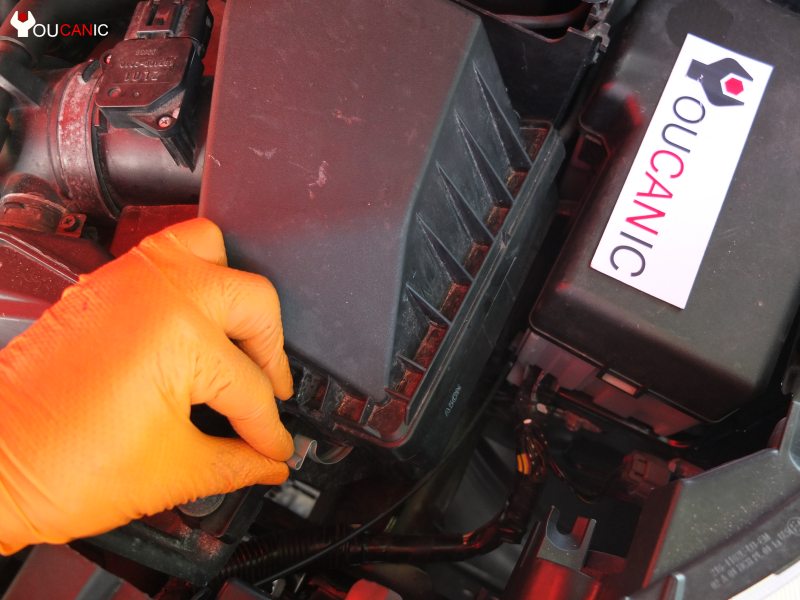 Step 4: Replace Mazda air filter
Open the air filter housing and pull out the old filter from your Mazda. Check out how dirty your Mazda 5 filter is. If your Mazda air filter housing is dirty clean it up and even vacuum it if necessary.Reinstall the new filter.
Note: Pay attention to the orientation of the old filter. Also, make sure to slide the two tabs on the back of the housing before you close up the housing. Note that if the two tabs aren't in the right slots, you won't be able to lock the air filter housing again.
Back to top
Frequently Asked Questions
---
Back to top
Conclusion
---
Change your Mazda engine air filter at least once a year or every 12,000. It is easy and only takes 15 min. You don't need any special tool to change the engine air filter on a Mazda. Instructions on how to chance the air filter are very similar for Mazda 3,5,6, CX-5, CX-7 and CX-9.
Back to top