Having owned several AutoCraft batteries in the past, I wanted to review and share my experience with this battery line. A key factor why many people consider buying AutoCraft batteries is because Advance Auto Parts installs these batteries free of charge.
Advance Auto Parts
has discontinued selling AutoCraft batteries. They now sell 
DieHard batteries
instead.
A question many people ask is: 'Are AutoCraft batteries worth it?". 
We first used an Autocraft gold battery on a Dodge vehicle, and the second Autocraft battery was installed on a Mercedes-Benz E-Class.  Both these cars were sold in less than two years, and during that time, the AutoCraft batteries performed well.
The third AutoCraft battery was installed on a Crysler Crossfire. Being a convertible, this car doesn't get that much use. The car is parked for weeks, and we usually disconnect the battery.
The AutoCraft battery installed on the Crossfire was an AutoCraft economy battery, which only had a 12-month warranty. To our surprise, this battery only lasted 13 months.
In fact, it started showing signs of not holding a charge within eight months, and the engine started turning over slower and slower. At 13 months, the battery was dead and would not start the car any longer. We took the battery to Advance Auto Parts, but we could not get a free replacement or any credit since we are out of warranty.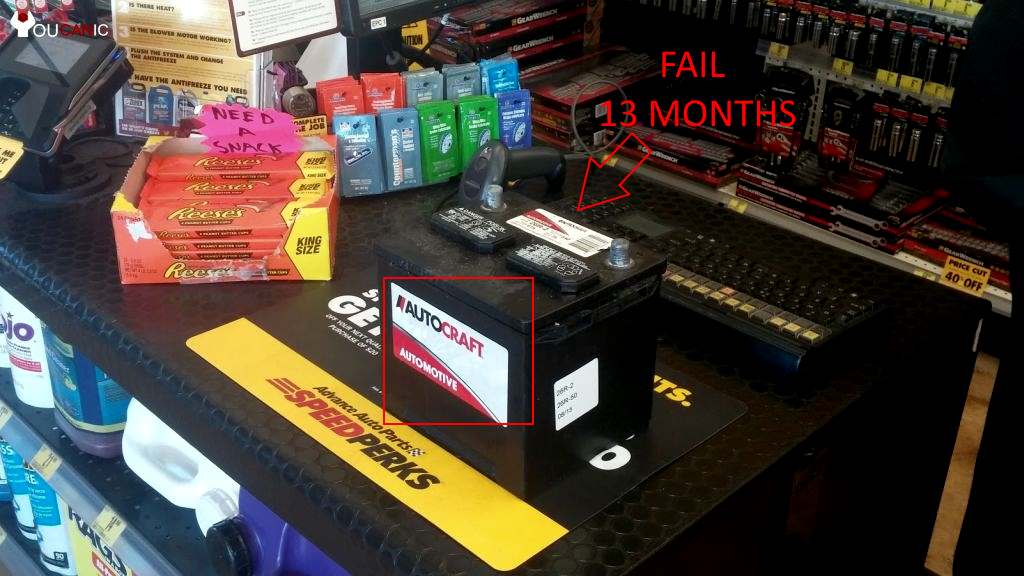 We learned about Autocraft batteries not to expect it to last much longer than the warranty period. If you do buy an AutoCraft battery and it starts to struggle to turn over the engine, take it back to Advance Auto right away, don't wait until it is completely dead. It will be too late. 
Are AutoCraft batteries worth it?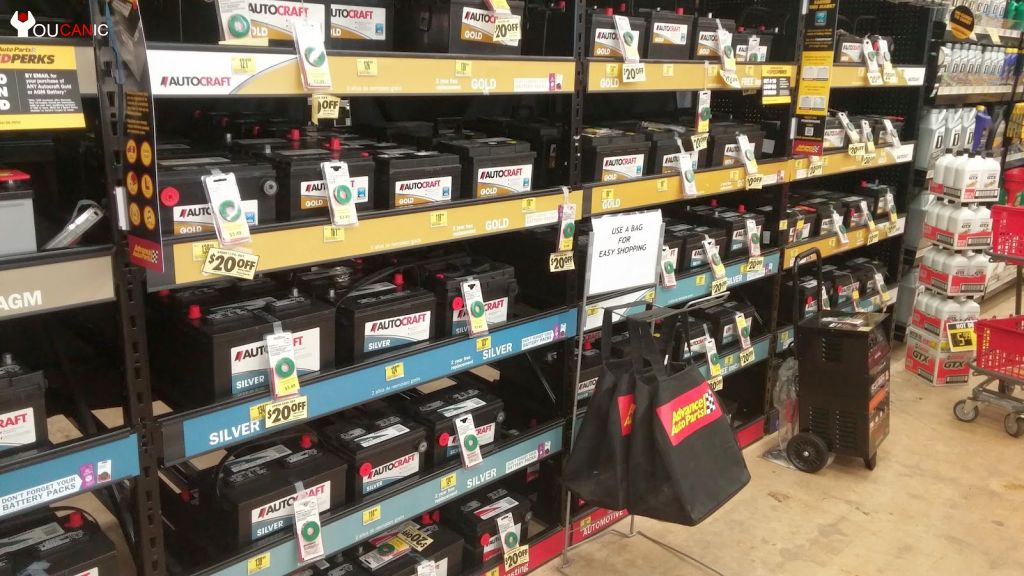 Advance Auto sells three grades of the AutoCraft battery.
AutoCraft Economy - Cheapest Battery, Very short warranty period. Usually, only 1 year.  Short lifespan. 
AutoCraft Silver  - Midgrade. Good choice for daily drivers on a budget. 
AutoCraft Gold / Platinum  - Longer Warranty Period. Overall great batteries for daily drivers and even luxury vehicles.   
As you decide on whether to buy an AutoCraft battery, keep in mind that: 
AutoCraft batteries will make it through the warranty period just fine.
Autocraft Economy batteries may fail soon after the warranty period. 
Avoid buying economy AutoCraft battery.
If you want a battery that will hopefully last a few years go for the Silver or Gold Autocraft battery. 
AutoCraft Silver, Gold, and Platinum perform well on vehicles that are driven daily.
If you need a battery that will go through many partial draining and recharging cycles, you should skip AutoCraft Economic batteries. You should really skip the Economy line. 
Some of the best and worst batteries come from the same manufacturer. The brand name is less important than the battery type. There is a significant difference between batteries made by the same company: Economy vs. Silver vs. Gold vs. Platinum AGM. 
Which AutoCraft battery is best? 
The best AutoCraft battery is, without a doubt, the AutoCraft Platinum. Honestly, you can't go wroth with either AutoCraft Gold or AutoCraft Platinum batteries. Expect these batteries to last about 4-5 years on average.
Autocraft Platinum Battery 
The best car battery sold at Advance Auto is AutoCraft Platinum AGM. It comes with a 3-year free replacement warranty. AutoCraft Platinum is an AGM which has many advantages over AutoCraft Gold, Silver, and Economy. 
AutoCraft Platinum being an AGM battery, is maintenance-free. It has great electrical reliability and is lighter than the flooded lead-acid AutoCraft Silver and Economy.
It performs better in low temperatures and has a low self-discharge. It charges faster than the flooded versions and has the ability to deep cycle.
A great choice for luxury vehicles as well. 
Autocraft Gold Battery
AutoCraft makes a good battery. It comes with a 3-year warranty, which is better than Silver and Economy but not the best warranty out there. 
AutoCraft Silver Battery 
AutoCraft Silver is good for daily drivers on a budget.
The best bang for the buck. Acceptable for daily driving. Not the best battery if your car is parked for extended periods of time. It may have problems with holding a charge when the car is parked for months. Comes with a  2-year warranty. 
AutoCraft Economy Battery
Shouldn't this be called AutoCraft Bronz? Comes with a 12-month warranty.  It is the least expensive AutoCraft battery but, in our opinion, not worth it. Avoid it if you can! If you have are looking for a cheap battery, our preference would be to go with the Walmart Everlast brand.
We do not recommend buying the AutoCraft Economy battery. Most importantly, don't install AutoCraft Economy batteries on high-end luxury cars such as Lexus, BMW, and Mercedes-Benz. Due to the high current demand, these cars put on the battery.
Makes such as BMW monitor battery voltage constantly, have specific charge cycles, and even the small voltage fluctuations can trigger electrical system malfunctions.  For such vehicles, don't install anything less than AutoCraft Gold as long as it meets the specs required by your manufacturer. 
AutoCraft Battery Alternatives
If you are looking for a good battery that would last at least a few years, you have a few options. Here is a list of highly-rated batteries that you can purchase from Amazon and have mailed to your house: 
Optima Batteries - Best Rated Car Battery (Amazon)
Duralast gold car battery (AutoZone)
EverStart  battery (Walmart)
Excide AGM Battery
DieHard 
Costco car battery
When it comes to batteries, there are only a handful of manufacturers that supply them. The main battery manufacturers in the US are Johnson Controls, Excide, ACDelco. They also supply AutoCraft and Duralast batteries. That's why you often will see the battery manufacturer make the best and worst batteries at the same factory.
You should take the battery back to the Advance Auto Parts store and perform a load test. The store may ask to keep your battery fully charged and perform the test when the battery is charged. If the battery test results come up well, the store associate will not issue you a free replacement battery.  
Duralast vs. Autocraft Battery
While the Autocraft brand is the battery sold by Advance Auto Parts, Duralast is sold at AutoZone.
Duralast batteries are in the same price range as AutoCraft; they are competitors, after all. 
Based on our research, the Duralast Platinum Absorbent Glass Mat (AGM) battery has great specs and, based on the cell construction, should last much longer than the AutoCraft lead acid-filled batteries. 
Can I use AutoCraft Battery on BMW, Lexus, Mercedes-Benz?
Luxury vehicles are equipped with computers, control units, sensors, and other equipment that demand high power consumption. Your best choice would be to install an approved battery that meets your OEM specs. In most cases, they will be an AGM battery. AutoCraft batteries, especially the economy line, may cause electrical issues since they are sensitive to voltage fluctuations. 
AutoCraft Battery Warranty 
One downside of AutoCraft batteries is that they don't have the best warranty periods out there, except the AutoCraft Gold, which can last at least 5 or 6 years. The same can't be said for economy AutoCraft battery.
This is a summary of the AutoCraft Battery Warranty. 
AutoCraft Gold - 3-year free replacement. 
AutoCraft Silver - 2-year free replacement.
AutoCraft Economy - 1-year free replacement.
The warranty begins when you purchase the battery and expires at the end of the warranty period printed on your original receipt or the Order Confirmation email. It cannot be transferred to the new owner. 
What's not covered by AutoCraft Warranty.
failure due to misuse,
abuse,
modification,
accident or collision,
improper installation
marine applications