TBeatIt 600A jump starter not only fits in your glove box but can start an eight-cylinder engine with a capacity of up to 5.5L gasoline engines or 4.0L diesel engines.
BeatIt 600A can easily jump start motorcycles, boats, and other four-cylinder engines. When jump starting a four-cylinder, it is able to provide up to 20+ jump starts on a single charge. 
BeatIt 600A jump starter uses a 14000 mAh lithium battery which allows it to be so small that it can fit into your pocket.
The Beatit is more than a jump starter. It can also be used as a power bank to charge tablets, smartphones, cameras and other electronic devices. It has a built-in LED flashlight that you can use if you need to jump start your vehicle at night. 
One of the main advantages of the Beatit Car Jump Starter is the fact that it provides spark-proof technology and reverses polarity protection. This is a safety feature that makes it safe in case you accidentally cause a short. 
Charging electronic devices such as iPhone and Android phones
The time required to charge devices is always a point of concern, and that is why the Beatit 600A Car Jumpstarter Booster considers this. To improve device charge time, Beatit has integrated an adaptive Smart Charging 2.1A 5V port which makes this power bank efficient for charging devices via the USB port.
Built in IQ, smart charging USB port means the charger can auto-detect if an iPhone, Android, iPad, Kindle device is plugged into the USB port and provide the current so that the device can charge at the maximum possible speed.
Heavy-duty cables and clamps
These are critical when jump starting your car. A weak cable can quickly heat up and cause fatalities and damages. Also, light clamps are prone to burning out especially due to the high amounts of power used during the process. Among the most remarkable features of an original Beatit 600A Car Jumpstarter Booster are these.
Safety features
With the Beatit 600A Car Jumpstarter Booster, you should be sure to be free of power risks. Beatit uses advanced technology such as reverse polarity protection, overcharge protection, and spark proof avoidance technology. With this, you are safe even if you accidentally set up jumper cables the wrong way. The reverse polarity protection is beneficial especially when jump starting modern or luxury cars. We have seen many cases where owners caused severe damage to circuit boards due to improper connections. 
Flashlight
The built-in LED light provides light in the event of an emergency and can be used as an SOS signal lighting. 
Size
The Beatit 600A Car Jumpstarter Booster has a small size of only 9.7 x 5.4? x 4.2? (length, height, and width). With such a size, you do not have to worry about how to store it in the vehicle?s trunk because you can store it in the glove box. The weight is below 2.5 pounds, which makes it even more convenient.
Add-on Features
USB charging ports
12V wall and vehicle chargers
Jumper clamp cables
Advantages of Beatit 600A
Compactness
Your car trunk carries many things, and therefore any fragile contents are prone to damage. With the Beatit 600A Car Jumpstarter Booster, you have nothing to worry about. The outer casing is rigid enough and the interior contents tightly enclosed. This enables you to store it even in the glovebox.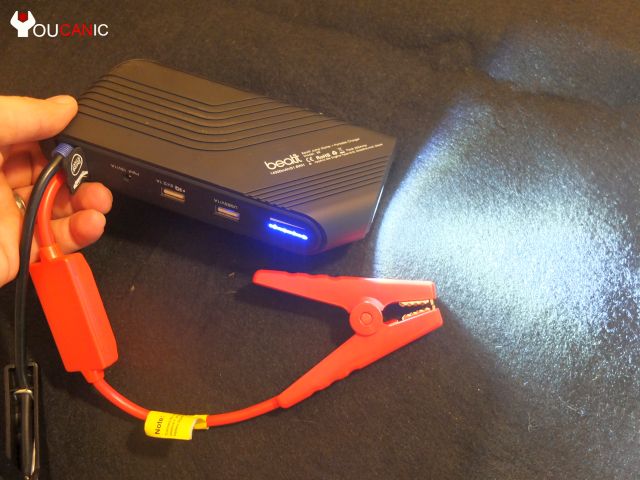 Time saver
A jump starter should be an emergency and therefore time saver. With this Beatit 600A Booster, you are sure of rapid charging in less than six hours. This means you can be charging it overnight and carry it the next day. This gives you another reason why you should not lack this gadget in your car.
Powerful
The Beatit 600A Car Jumpstarter Booster has enough power to boost your battery up to 30 times. With the 600 amps of power, the battery has enough dischargeable current to boost any car battery. The lithium battery adds up to the quality of this power bank. 
Quality
With the strong cables, rigid but responsive clamps and well-designed Circuit boards and housing, you are sure to have a long lifespan of the device. 
Reliability
Most batteries experience discharging phenomenon with environmental fluctuations. However, the Beatit 600A Car Jumpstarter booster outdoes them all. It can tolerate temperatures as below as -25?c and as high as 60?c.
User friendly
With the many safety features, including spark-proof technology, the Beatit 600A Booster protects the user from adversities of high voltage shocks. Also, the layout design is unique but simple and requires just following the markings it has.
The Beatit 600A Car jump starter is not limited to cars only. It is compatible with up to 5.5L petrol and 4.0L diesel engines, motorcycles, boats, etc. 
Cons
Can't charge laptops or cameras. It would be good if the unit had a 19 Volt output port that will allow users to charge laptops and cameras. 
Smart Charging Port It is a nice feature that the unit provides a 2.1A 5-volt charging port, but we could not verify if the unit uses the CPU to monitor the current draw from this port. 
Conclusion
The Beatit 600A is a solid portable jump starter and power bank. We like the features that this solid jump starter offers such as the built-in light, compass, solid housing. It can jump start a 6 cylinder car with a completely dead battery. It has a 2.1 A smart charging USB port. We wish that it had a 12-volt and 19-volt output for charging laptops and cameras. 
Features
Spark Proof Technology 
Reverse Polarity Protection
Overload Protection
Smart Charging USB Port
Flashlight / SOS Mode
Integrated CPU chip to monitor current draw
Temperature range: (-25 to 60 Celcius)
Top Alternatives
What is in the box? 
Beatit jump starter
12V battery clips 
USB cable for smart devices
Power supply adapter 
Car charger
Smart leather bag
User manual
Frequently Asked Questions
How often do you need to recharge the Beatit Jump Starter? 

Recharge the unit every 4-5 for optimal performance. 

How many times can I charge my cell phone or tablet before I need to recharge? 

The answer to this questions depends on the capacity of the device that you are trying to charge. Technically the Beatit has a 14000 mAh battery which means that you can recharge a smartphone battery (2000 mAh) about 6 to 7 times. 

Does the case hold the charger and the cables? 

Yes, the case is large enough to hold all the cables that come with this case. 

My car won't start, is the Beatit defective? 

Not necessary. If your car battery is completely dead, leave the Beatit connected for at least 5 minutes. Check the clamps and try jump starting again. 

Do I need to keep it plugged when jump starting  or I try to charge another battery? 

No, you do not. The current draw during a jump start is much higher than what is supplied by the power supply. Make sure the Beatit is charged fully before you use it. 

Can I use this to charge a laptop? 

It depends on the voltage requirements of your laptop. Most laptops require 19 volts. The Beatit jump starter only has two 5-volt USB ports. If that is all you need then yes, you can charge your laptop.