Multifunction Turn Signal Wiper Switch Replacement Hyundai Elantra 2011-2016
Published by YOUCANIC Automotive Experts 
Last Updated May 18, 2018 
DIY instructions on how to replace the combination / multifunction switch on Hyundai Elantra model years 2011, 2012, 2013, 2014, 2015, 2016. The combination switch consists of the following:
Low Beam Switch
Turn Signal Switch
High Beam Switch
Headlight Lights ON Switch
Windshield Wiper Switch
If you are experiencing problems with any of the items listed here, continue reading this tutorial to learn how to replace any of these switches. 
Multifunction (Light, Turn Signal, Wiper) Switch Replacement Hyundai Elantra 2011-2016
---
Step 1 Disconnect Battery
Locate the battery in the engine bay and disconnect the negative cable. To remove the cable from the battery post you will need to loosen the 10 mm bolt. Wait at least 2 minutes before you start work on the airbag system.
Step 2: Remove Airbag
Remove the airbag by using a screwdriver to press on the three locking pins that hold the Hyundai Elantra airbag in place. 
Step 3: Remove steering wheel
Next, you will need to remove the 21 mm nut that holds the steering wheel in place. It is easier to remove this nut using a breaker bar.
Step 4: Remove clock spring
Once you remove the steering wheel you will be able to access the clock spring. Before you can remove the clock spring you will need to remove the plastic trim which is held in place with three screws.
Step 5: Remove headlight switch
Remove two Phillips screws that hold the headlight switch in place. Unplug the electrical connector from the headlight switch assembly. Now you are able to remove the switch. 
Step 6: Install new switch
Install the new headlight switch in reverse order. Reinstall the clock spring, and steering wheel as well in reverse order. 
Hyundai Headlight Switch Replacement Photo Gallery
---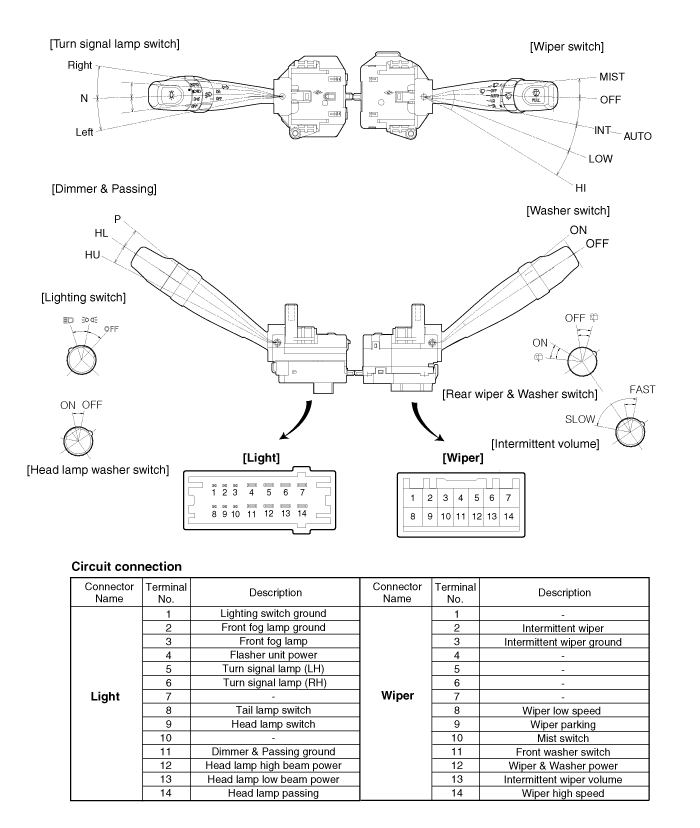 Hyundai Elantra Multifunction Switch (Headlight / Turn Signal / Wiper) Circuit Connection 
Source: hemanual.org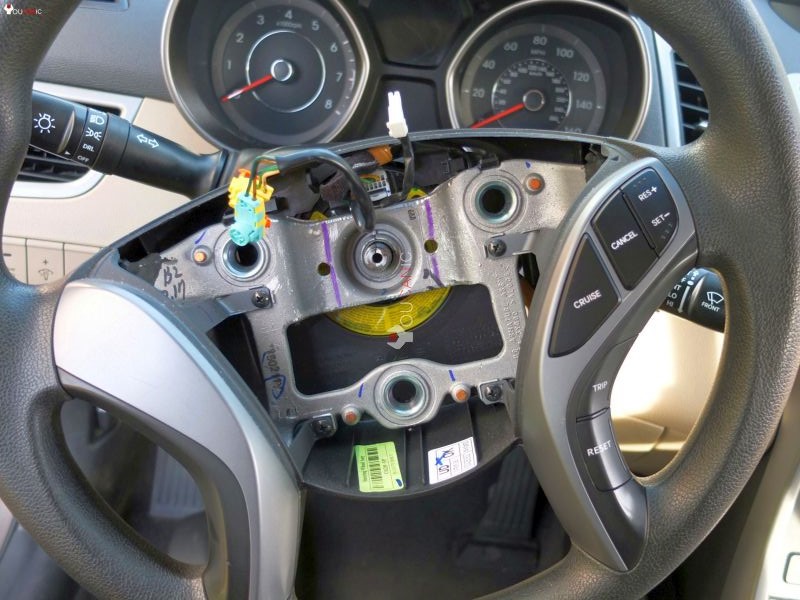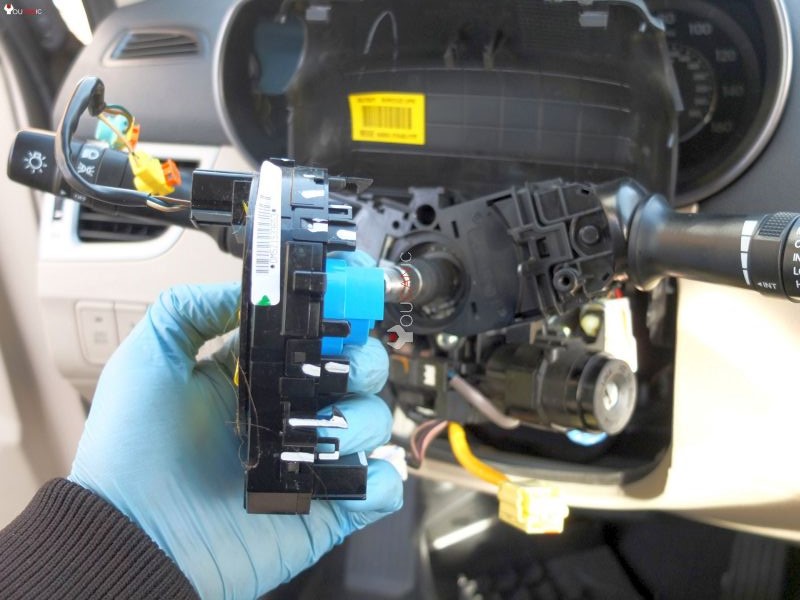 Frequently Asked Questions
---
Hyundai Elantra Headlight Switch Replacement Cost can vary greatly depending on model year and your location. In average expect to pay between $400 -$1200. Replacing Hyundai Elantra Headlight / Turn Signal Switch yourself will cost you less than $200 in parts if purchased online. You will need the right tools and about two hours to change the headlight / turn signal/ wiper switch.
2011-2013 HYUNDAI SONATA
2011-2015 HYUNDAI ELANTRA
2012-2015 HYUNDAI VELOSTER
2014 KIA FORTE
2012-2014 KIA RIO
2011-2015 KIA SORENTO
934103S100 629-60976B 93410 3S100: WIPER AND TURN SIGNAL COLUMN SWITCHES 14 Hyundia Elantra 934101U110, 934101U111: 11 12 13 Elantra Column Switch Sdn Turn Signal W/Fog Lamps W/Automatic Headlamps
Related Resources
---