DIY Hyundai Oil Change & Filter Replacement Guide
In this DIY tutorial, you will learn how to change the engine oil on most Hyundai vehicles. These step by step instructions with pictures and video clips to help beginners and advanced DIYers change the engine oil and filter on their Hyundai. Note that this is a complete guide that covers all Hyundai models. Guides for specific Hyundai models may also be available. 
🔺
Hyundai Oil Change Instructions
Follow these steps to change the engine oil on your Hyundai. 
Tools Needed
Parts Needed
Instructions
Get ready to change Hyundai engine oil
Park your Hyundai on level ground and let it cool down. Next open the hood. 
Raise your vehicle
Raise the front of your Hyundai and place jack stands under the vehicle to secure it.A better and safer way to raise your Hyundai would be to use car ramps. Place wheel chocks at the rear wheels to stop your Hyundai from rolling backward. 
Secure your Hyundai
Engage the parking brake and make sure the gear selector is moved into Park position. 
Access Hyundai filter and oil drain plug
Remove the undercarriage from underneath the Hyundai engine.This is held inplace with several 10 mm bolts.There are also a few plastic screws that you need to remove.Once you get them unscrewed a few turns, simply pull them out. Once all the screws are removed the cover can be removed. Now you can see the engine oil filter and drain plug. 
Drain Oil
Place a drain oil pan under the engine. Remove the oil drain plug.Let the oil drain for at least five minutes. 
Install Oil Drain Plug
Reinstall the oil drain plug. If you have a replacement washer make sure to install it. Even though the Hyundai dealer recommended to change the oil drain plug at every oil change, note that you can reuse the same oil drain plug gasket a couple of times without having any oil leaks. Tighten the oil drain plug to 30 lb-ft. 
Replace Engine Oil Filter

Locate the engine filter on your Hyundai
Remove the oil filter using an oil filter wrench. You can remove the oil filter by turning in counterclockwise. 
Clean the surface where the oil filter will be installed. Apply a thin film of clean oil on the gasket of the new oil filter. 
Screw the new oil filter in and tighten it by hand until the gasket contacts the engine block. Tighten the new oil filter to 8.5-10 lb-ft. Most people can tighten the filter to 9 lb-ft by hand. 

Add engine oil 
Remove the engine oil cap.Use a funnel to add the new oil.If your Hyundai requires 4.5 liters/quarts, start by adding 4 quarts. Wait a few minutes and check the engine oil level. 
Re-check engine oil level
Lower your vehicle from the jack or your ramp. Next, start the engine and let it run for a minute. Turn off the engine and let the car sit for a few minutes. Re-check the engine oil level make sit it is within the required MIN and MAX marks of the dipstick. 
🔺
Recommended Hyundai Oil Change Interval
According to Hyundai, 2010 and newer models (Hyundai Elantra, Sonata, Santa Fe, Accent)  have a recommended oil change interval of 7,500 miles. Pre-2010 Hyundai models require oil changes every 3,000 to 5,000 miles. 
That assumes that you are using synthetic oil and a quality oil filter. If you switch to conventional engine oil make sure to change the engine oil on your Hyundai every 3000 miles even for 2010 and newer models. The best way to confirm the oil change interval for your Hyundai engine is to check the owner's manual. 
🔺
Hyundai Oil Capacity
Hyundai engine oil capacity with filter. 
Accent
Azera 

3.3L 6 Cylinder Engine - 5.5 quarts
3. 8l 6 Cylinder Engine - 5.5 quarts

Elantra

2.0L 4 Cylinder Engine - 4.2 quarts
1.8L 4 Cylinder Engine - 4.2 quarts

Genesis

3.8L 6 Cylinder Engine - 5.5 quarts
4.6L 8 Cylinder Engine - 6.9 quarts

Santa Fe

2.4L 4 Cylinder Engine - 4.9 quarts
3.5L 6 Cylinder Engine - 5.5 quarts

Sonata 

2.4L 4 Cylinder Engine - 4.5 quarts
3.3L 6 Cylinder Engine - 5.5 quarts

Tucson

2.4L 4 Cyliner Engine - 4.8 quarts

Verazruz

3.8L 6 Cylinder Engine - 5.5 quarts
Verify Hyundai oil capacities on your owner's manual. 
🔺
Recommended Hyundai oil 
The recommended oil as per Hyundai is Quaker State. You can switch to other synthetic oil brands such as Mobil1 and Valvoline without any problem. 
🔺
Hyundai Engine Oil Filter Location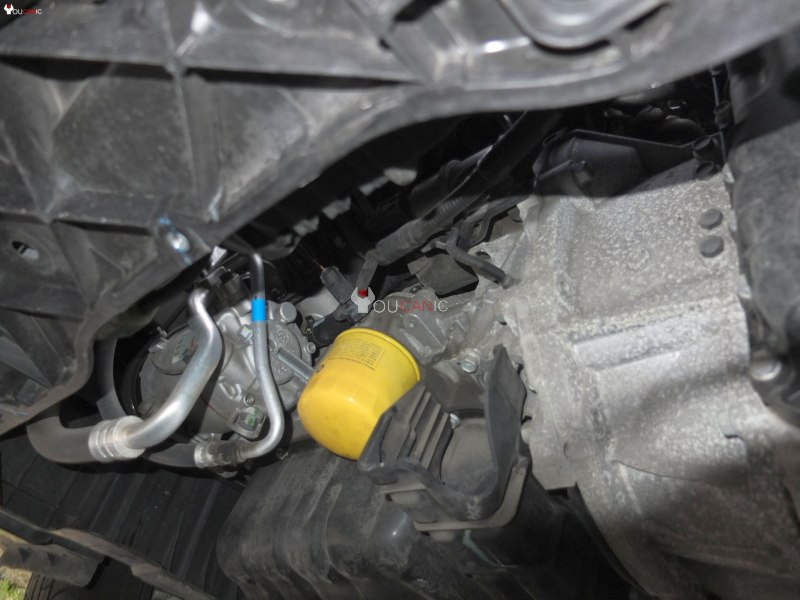 The oil filter is located next to the engine block. It needs to be accessed from underneath the engine. The oil is round and typically yellow or white as shown in the following picture. 
🔺
Hyundai Engine Oil Type & Viscosity
---
The recommended oil viscosity should be printed on the oil cap located on top of the engine. If you don't see it there, look it up in the owner's manual. You will see a chart that shows the recommended oil viscosity. 
Most Hyundai vehicles use either 5W20 or 5W30 oil type. 
🔺
References
🔺