Updated Apr 18, 2019
Where to buy Cheap Car Batteries
Published Jun 28, 2017
Updated Apr 18, 2019
Where to buy Cheap Car Batteries
---
Car batteries can be expensive. If you like saving money, you can buy cheap car batteries online or at certain local auto parts stores.
A car battery can cost up to $300 at your car dealership. The price to change the battery in some luxury vehicles goes up to $500. Yes, the average price for a new battery falls in the $115-$130 range depending on group size and specifications.
It is easy to see that buying the battery online or from a local auto parts store (that will install it for free) can save you hundreds of dollars.
Let's take a look at some of the best places where you can buy cheap car batteries. 
[toc]
Advance Auto Parts 
At Advance Auto Parts you can save up to 30% on a new car battery by paying for the battery online and picking it up at your local store. Plus get your new car battery installed for free. 
The reason why you pay for the battery online (instead of paying at the store) is that online you can get 20% or 30% off the battery price. That can mount to a discount of $20 to $50 off the battery price.
The catch is that you will need to apply a coupon code at check out. If you don't have an Advance Auto coupon, check out this list of current Advance Auto Parts coupon codes. Just copy the code and apply it at check out. You can head over to the Advance Auto Parts Store and pick up the battery after you pay for it online. 
How to buy a cheap car battery from Advance Auto Parts 
Step 1
Determine the battery group size. If you have the old battery, look at the sticker on the top of the battery. It has the group size and battery specifications. If you don't have the old battery or aren't near your car, look up the correct battery size online by going  Advance Auto Parts > Car Batteries  
Step 2
Enter your car information. Make, Model, Year
Step 3
 Pick the car battery that fits your car. 
Step 4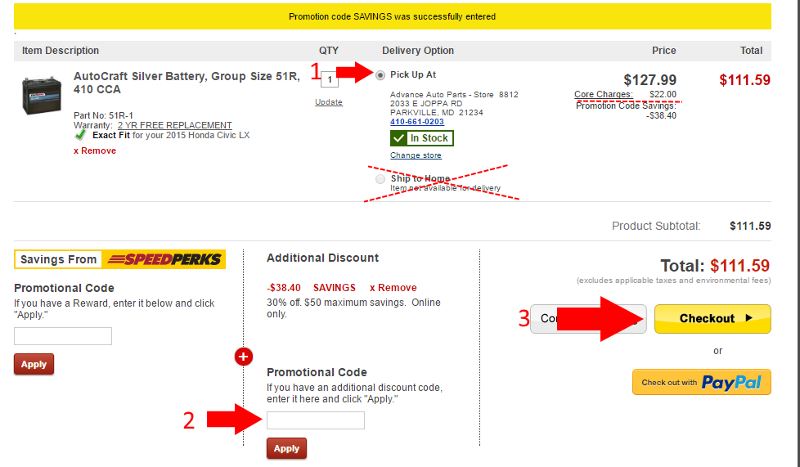 Select the store that is closest to you. Don't select ship to home.
Apply Advance Auto Parts coupon code under Promotional Code. 
CORE CHARGE: You will notice that there is a core charge which can range from $18 to $25. You can get the core charge refunded to you by returning your old dead battery to Advance Auto Parts.
Once you pay for the battery online, make sure you write down the order number that you will get at the end of checkout. Next, head over to the Advance Auto Parts store to pick up your battery. They usually have the battery ready for you in 15 minutes.
Step 5 
If you are changing the battery yourself, don't forget to take the old battery back to get a refund for the core charge. If you don't have the old battery removed, don't worry. You can take your old battery back at a latter time (within 30 days) to get a refund for the core charge if you don't have it removed yet. 
If you can get your car jump started, drive it to the store and have the associates replace the battery for you. Note, that a few vehicles such as BMW, Mini, and Porche require battery registration to be carried out as well. Auto parts stores cannot perform this procedure for you. 
Walmart Batteries
Visit: Walmart Batteries
You can buy Walmart car batteries online or at your local store. The store brand is EverStart. The MAXX batteries have a 5-year warranty and PLUS have a 2-year warranty. We have it on this list because Walmart has very low prices when it comes to car batteries in comparison to other auto parts stores. When we compared car battery prices of local auto parts stores, Walmart had the lowest price for most group sizes. Walmart car battery prices were 10%-25% cheaper than Autozone, PepBoys, Advance Auto Parts (except online purchases) and Salvo Auto Parts.
To buy a battery from Walmart you don't need a coupon code. Their batteries are already makred down. 
BatteriesPlus
Visit: Batteries Plus
Batteries Plus has a wide selection of car batteries. You can buy the batteries online and get it shipped to your home. You are also able to buy online and pick up in store if you need to get the battery the same day.  Doesn't matter if you looking for a replacement for a classic car or for a modern luxury vehicle, you will save money compared to the alternative, which is buying from your dealer. Batteries Plus partners up with local stores that you may not even know have batteries for sale. Enter the zip code on their home page to find cheap car battery stores near you. Another advantage of BatteriesPlus is that if you choose store pickup they will install it for free. 
Amazon Automotive Batteries
Visit: Amazon Automotive Batteries
Not many people think on Amazon when buying car batteries. Amazon is a great place to buy car batteries online. You can find a new replacement battery for any make and model. You are able to read reviews on any battery if you have time to kill. If you need the battery fast, you can't beat Amazon's one-day shipping. 
eBay Motors
Visit eBay: Automotive Batteries
If you are looking for the cheapest car battery, eBay is another choice. Here you can find the best prices on car batteries by premium brands such as Bosch, Optima or DieHard. If you are looking for the absolute cheapest car batteries, you will find those here as well. You will need to go to the car batteries section, see link above.  If you know the battery group, filter results by that. If you don't, just enter your car make and model and you will see batteries that are an exact fit for your car. If you need the battery to get to you fast, look for the Fast 'n Free items.
Choosing the right car battery 
While we all want to save money, don't be tempted to buy the lowest grade of any battery brand. If you are buying your battery online, you are already saving money. Rember that all battery brands including AutoCraft, Bosch, DieHard, Duralast, EverStart or Interstate batteries, normally have three grades:
Avoid buying the economy battery at all possible cost. These batteries tend to not last very long and they have the shortest warranty period. Economy batteries can fail within one year. In our opinion, the brand name itself doesn't matter as much as the quality of the battery.
Some of the best and worst car batteries are made by the same manufacturer. 
When buying a replacement car battery there are a couple of parameters you need to make sure the new battery matches. Besides the fact that you need a 12-volt car battery make sure the new battery meets these specifications as well. 
Group Size
The group size ensures that the new battery is an exact fit. You can look up the group size on the old battery. It is printed on the label. Alternatively, in any of the websites above you can enter your car specs and they will show you batteries that feet your car. 
Cold Cranking Amp
The battery's ability to start your engine in cold temperatures. The amperes a battery can deliver for 30 seconds at 32 degrees F. 
Reserve Capacity 
It's a measurement of the number of minutes of reserve power the battery has at a specific load.  The reserve capacity is a very important factor especially for high-end luxury vehicles that are power hungry.
We hope that this article helped you find cheap car batteries. Do you know of an online site or a local store that has cheap car batteries? Use the comment section below to share your thoughts and help other members.