Understanding the Central Gateway Control Unit in a Mercedes-Benz Vehicle
Mercedes-Benz Central Gateway Module ZGS (CGW) may fail, causing various warning lights or systems to stop working. The Mercedes Central Gateway module is the hub that allows communication between various modules. Mercedes ZGW Gateway control module stores data for Mercedes ASSIST or ASSYST plus.
Problems with this module can be challenging to diagnose, especially if you are not specialized in Mercedes-Benz vehicles.
What is the Mercedes-Benz Central Gateway control unit or module?
The Central Gateway Control Unit, also known as the CGW or ZGS, is an essential component in the communication network of a Mercedes-Benz vehicle. It is a hub for multiple control units, connecting and exchanging data between systems such as the engine control unit, the instrument cluster, and various comfort and safety systems. The Central Gateway Control Unit is responsible for processing and distributing sensor data, controlling actuators, and monitoring the system for faults. The CGW also can diagnose and repair faults within the communication network, making it a critical component for ensuring the proper functioning of the vehicle. In some models, the CGW also controls features like keyless entry, power windows, and other comfort features.
Mercedes Central Gateway Module is the main hub that communicates with various ECUs and modules, including seat modules, front and rear SAM, audio gateway modules, etc. Depending on how and what component of the Mercedes Central Gateway module fails, you will notice various lights and disabled systems.
Symptoms
Symptoms of a bad Mercedes Central Gateway module usually vary from car to car.
No Communication
A common symptom of a bad Gateway Module is no communication between an OBD-II scanner and one or more modules. Control modules that communicate via the Central Gateway module do not respond if the Gateway Module has failed. The engine will sometimes start and run fine, but the vehicle may go into limp mode.
Intermittent Electrical Issues
The central gateway control module can also allow systems to work and shut them down at unpredicted times due to a bad or corroded connection or terminal. A bad CGW can also cause the engine to shut off, even when driving randomly.
Random warning lights and messages
You will have several warning lights stay ON on your cluster, and several features stop working. Below is a list of warning lights and problems you may notice if your Mercedes Central Gateway Control module fails. This is a partial list, and symptoms can vary between Mercedes models such as C, E, S, CL, CLK, CLS, ML, G, GL, R, and SL Class.
One or more of the following lights may come on.
SRS/Airbag light ON
Check the Engine Light ON
ABS or ETS light on
Battery Warning Light ON
Low oil light
Brake Light ON
Disabled Systems
One or more systems may stop working when the Mercedes Central Gateway Module fails.
Radio / COMAND not working
Both front seats are not working
Heated seats
Keyless Entry
Rear liftgate
Wipers
Turn signals
Lights
Instrument Cluster
Heated Seats
Sunroof
Common Problem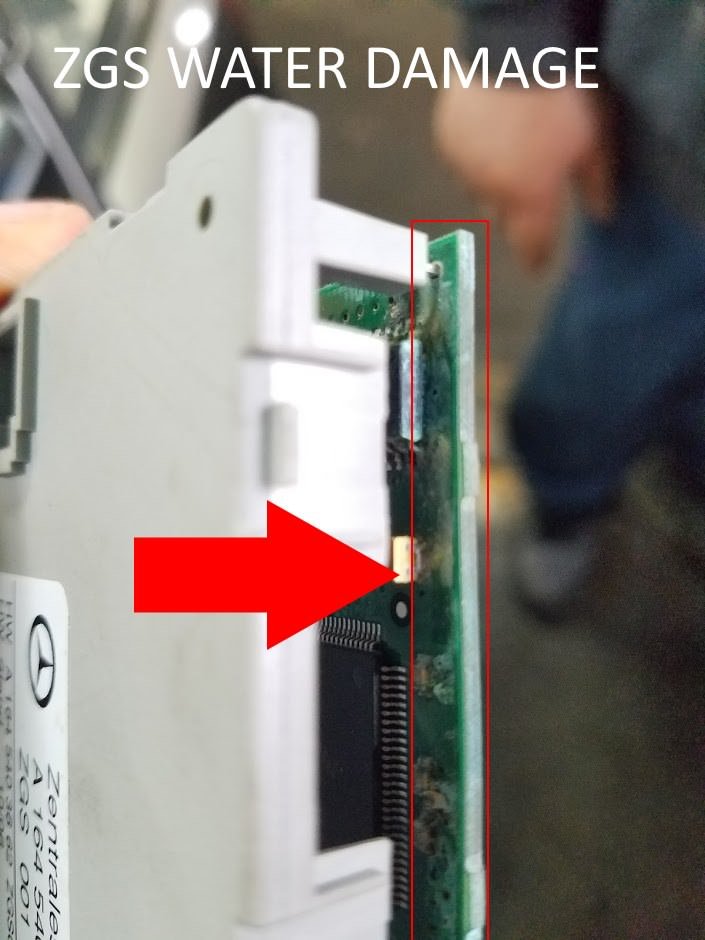 Mercedes Central Gateway Module may fail due to water damage. It can also fail to internal software or hardware defects. Damage to the Mercedes Central Gateway Control module can be caused by a blocked drain valve in the trunk floor.
On some models, the Central Gateway Module is mounted on the vehicle's trunk floor, where water can easily damage the unit.
Conclusion
It must be replaced if the Mercedes-Benz gateway module has failed and doesn't communicate with other ECUs. Cleaning a Central Gateway Module terminal can be attempted but rarely successful.
A new CGW module can be purchased at the dealer or online. You must get the CGW module coded properly with Star Diagnostic Scanner. The Star diagnostic scanner will need to have a subscription to complete online coding.
If you replace the bad CGW with a new one, you will have systems that will not work because they are not coded in the CGW module. CGW/ZGW Gateway control module stores vehicle service history, VIN, and car mileage. You must code the original miles and VIN in the new ZGW module by cloning the information from your old Mercedes ZGW control module. If the ZGW data cannot be read, manual coding can be performed by the dealer or a Mercedes mechanic.
For example, the power seats may not work because they are not coded in the new CGW module. Keyless entry may not work because it needs to be coded in the CGW module. You need to code the CGW module and tell what modules and systems are installed on that vehicle.
CGW Part Numbers
Below is a partial list of Mercedes-Benz Central Gateway Control Module part numbers. This is for reference only; you should never order parts based on this list. If you need to figure out the part number of your Mercedes-Benz, call a dealer and provide your vehicle's VIN.
2305407145 – 2007 Mercedes-Benz SL550 R230
2115403545 – 00-06 MERCEDES S-CLASS
2115405745 – CLS550 CLS63
A1715409245 – 2008 MERCEDES SLK280
2205402845 – 2006 MERCEDES BENZ R230
2115403545 – 00-06 MERCEDES CL500
A1645406745 – 2006 2007 2008 2009 Mercedes ML-Class
2114452000 – MERCEDES 211 E320
2115407145 – 06-2011 MERCEDES CLS550 W219, CENTRAL GATEWAY MODULE
A2205402645 00-06 Mercedes W220 Central Gateway Body Control Unit Module
A 221 540 27 62, A2215402762 – W221 S550 S63
2215408362 Mercedes Cl63 Cl65 Amg
1715405045 – R171 SLK350
We hope you find the Mercedes-Benz Central Gateway Control Module Failure guide helpful. Check these troubleshooting and repair guides for more help on your Mercedes-Benz.
Questions?
Have questions about your car? Get assistance in our newly launched forum section. We're here to provide support!